Election 2015: Murdoch tells The Sun 'future of company' depends on stopping Miliband becoming PM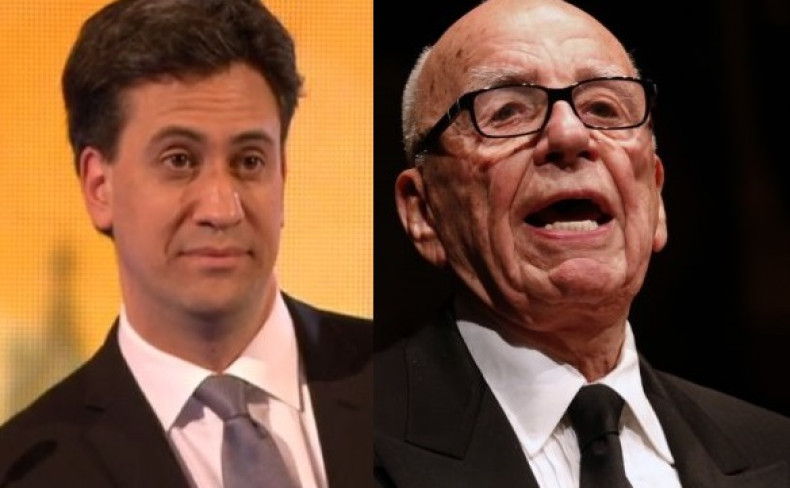 Rupert Murdoch has warned journalists at his Sun newspaper "the future of the company" depends on them stopping Ed Miliband becoming prime minister, according to reports.
The owner of the UK's biggest selling tabloid has told its reporters to be more aggressive in their attacks on the Labour leader in a bid to try and influence the outcome of the 7 May general election.
Murdoch, whose News UK owns The Sun as well as The Times and Sunday Times, warned a Labour government would implement a rule which states no owner would be allowed to control more than 34% of the UK media, meaning the 84-year-old may have to sell one of his titles.
Murdoch is said to have told The Sun editor David Dinsmore the paper needs to increase its attacks on Miliband as well as shine a more positive light on the Conservative's achievements since they've been in power.
A source told the Independent: "Rupert made it very clear he was unhappy with The Sun's coverage of the election. He basically said the future of the company was at stake and they need to get their act together."
Miliband has frequently called for Murdoch's News Corp to be "dismantled" over fears he is too powerful and was keen to implement recommendations in the Leveson report for an independent press regulator backed by statute, which Murdoch fervently opposed.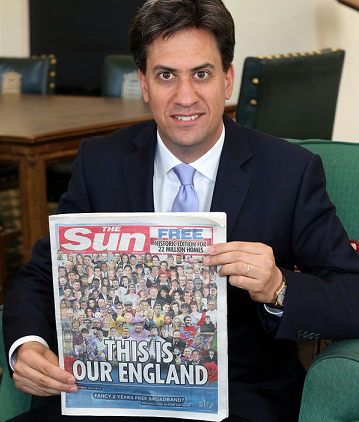 Ed Miliband said he posed with The Sun to endorse England's World Cup campaign
Twitter/The Sun
Murdoch has made no secret of his dislike for Miliband too, frequently expressing his dismay at the Labour leader via his Twitter account.
Following the recent opposition leader's televised debate, he wrote: "No show Cameron only winner in UK debate as Scot Sturgeon clobbers Miliband and Farage stumbles."
A spokesman for The Sun said: "As has always been the case, The Sun's political coverage is informed by how the political parties approach the issues that matter most to our readers.
"The Labour Party has been weak on tackling the deficit, weak on immigration, weak on fracking and opposes giving the country a referendum on the EU. If Ed Miliband wants to ignore the concerns of Sun readers we feel it is our responsibility to reflect that decision."
Miliband was forced to apologise after he posed with a copy of The Sun in order to promote England's bid to win the 2014 World Cup.
The photograph caused outrage in the Labour town of Liverpool, which has imposed a boycott on the paper ever since its controversial 'The Truth' coverage of the 1989 Hillsborough disaster at which 96 people died.