Election 2015: Who wins the battle of social media?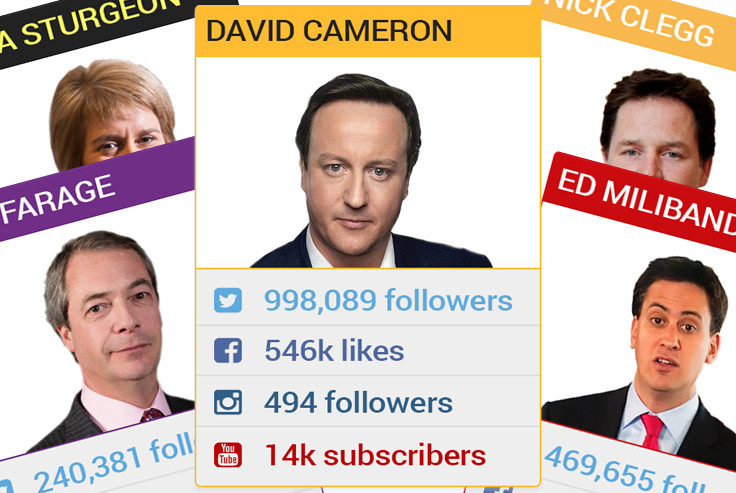 Appealing to the youth vote is always an important aim for any political party in the run-up to a general election, and in the five short years since Britain last went to the polls, smartphones and social media have heavily impacted how politicians and their parties talk to a nation of liking, tweeting, sharing, selfie-snapping millennials voting for the first time.
So, on the eve of the 2015 General Election, we've dug into the main parties' Twitter, Facebook, Instagram and YouTube accounts to see who came out on top in the digital race for our votes.
---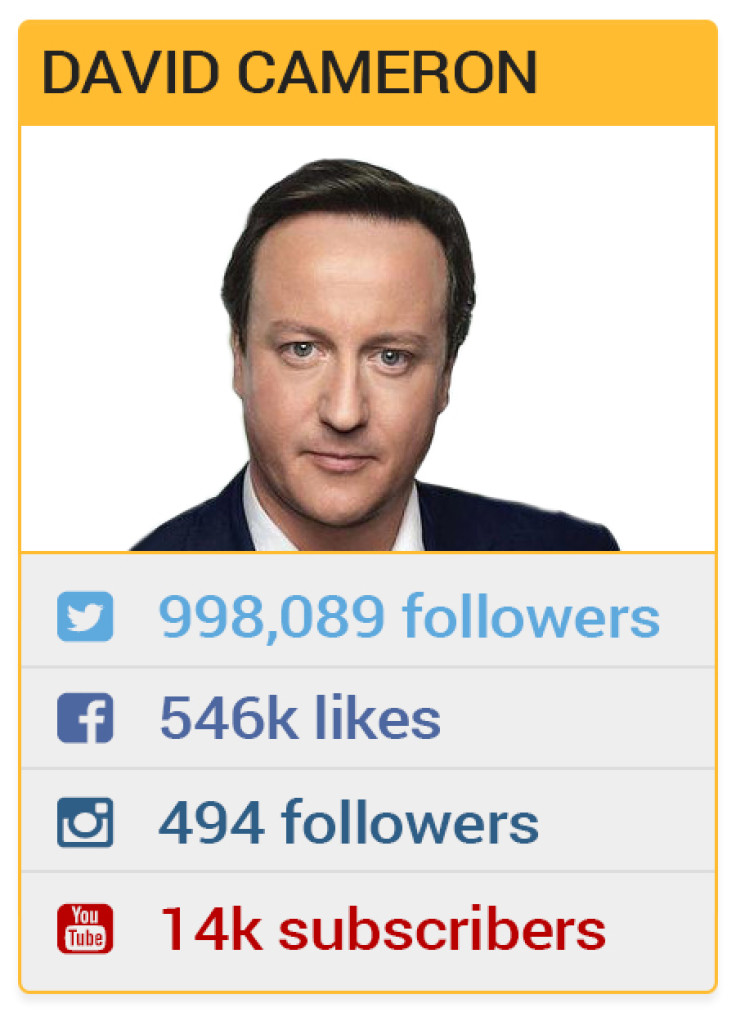 Cameron has the most Twitter followers and Facebook likes, but just one Instagram photo
IBTimes UK
We combined the Twitter and Instagram followers, Facebook likes and YouTube subscriptions of the official pages of the Conservatives, Labour, the Liberal Democrats, Ukip and the Scottish National Party - along with the accounts of their respective leaders, all counted in thousands - to come up with their total social media audience. This was then divided by the seven social network sources to come up with an average score.
A Conservative victory
At 311.6, the Conservatives earn the highest score, followed by Labour at 158.5, narrowly beating Ukip in third with 147.4. The SNP came fourth with 93.1, while the Liberal Democrats scored just 81.1.
But look more closely, and some of the numbers are surprising. Much of the Conservative's success comes from David Cameron's 998,000 Twitter followers (at the time of publication; it may well top one million on polling day). Indeed, if the Twitter and Instagram followers of the leaders are removed, leaving the political parties' own pages and channels, then the Tories still win with a score of 159.2, but Labour and Ukip are much closer, with 130.9 and 112.9 respectively.
Insta-gone
The Prime Minister should be grateful for his large Twitter following, as the only Instagram account claiming to belong to him has just one photo, posted in January 2013, and a mere 494 followers, compared to Labour leader Ed Miliband's 136 photos and 7,900 followers.
Bizarrely, the Conservatives are the only party not to have an Instagram account, but Ukip isn't doing much better - the party's profile has just three photos, the last uploaded in May 2014.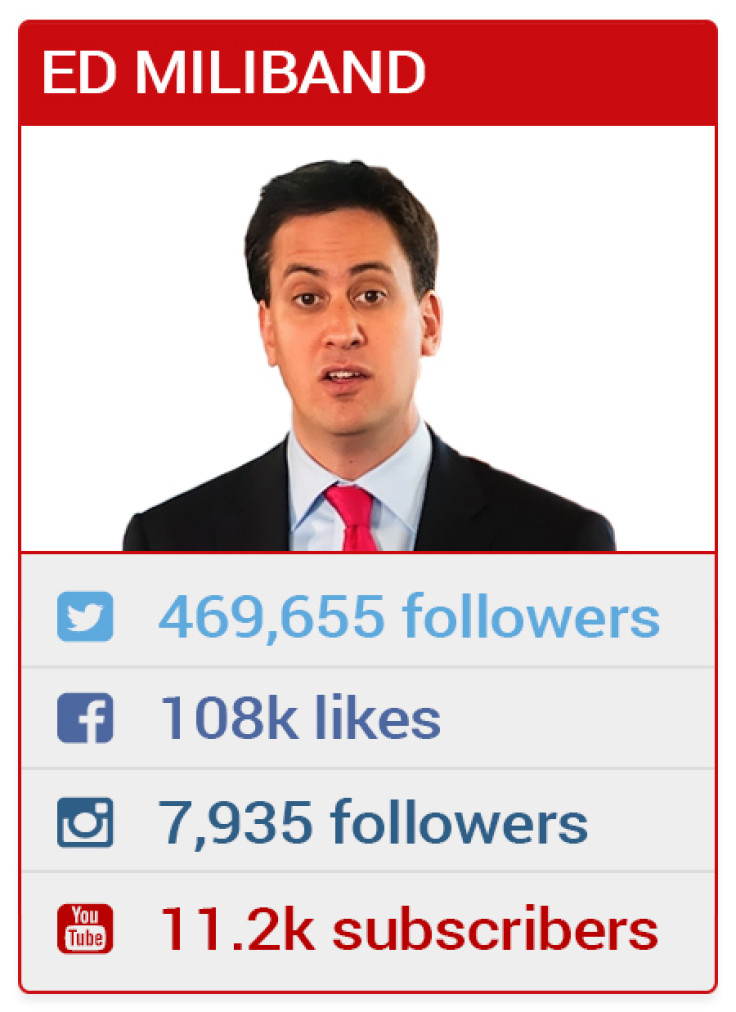 Ed Miliband's Labour party has the most Twitter followers of all major political parties
IBTimes UK
The account follows nobody, and neither does that of the SNP - and despite having never posted a photo, it has 67 followers eagerly awaiting leader Nicola Sturgeon's debut post.
Equally unexplained is how the SNP's YouTube channel has been set to hide how many subscribers it has. It isn't all bad news for Sturgeon though, as her own Facebook page has 166,000 likes, putting her in fourth place and comfortably ahead of Nick Clegg's 87,000 Facebook fans. Ukip leader Nigel Farage performs strongly here, commanding a comfortable second place with 243,000 likes, behind Cameron's 546,000 but well ahead of second-place Miliband, who has 108,000.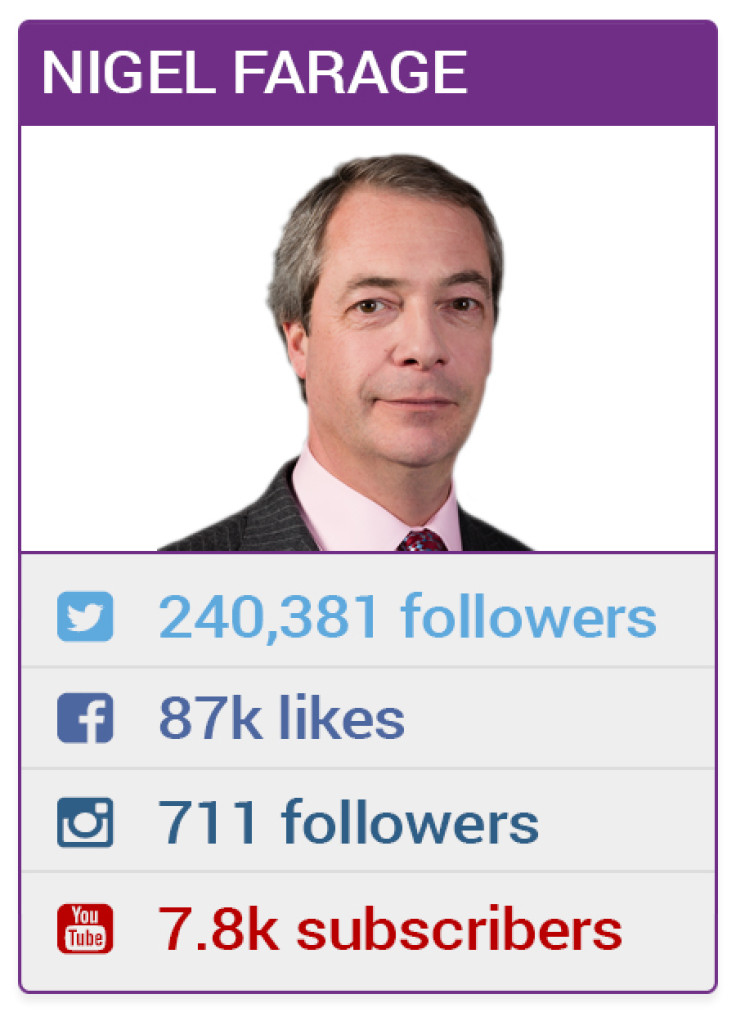 Nigel Farage has the second-most liked Facebook page of the party leaders
IBTimes UK
As far as YouTube is concerned, the Conservatives lead with 14,000 subscriptions and 5.9 million views, followed by Labour at 11,200 subscribers and 4.5 million views. Ukip is third with 7,800 subscribers, beating the Lib Dems' 4,400, while both parties are closely tied when it comes to total views, with 1.3 million and 1.4m respectively. The SNP's relatively unused channel only started publishing videos two months before the election and has just 370,000 views.
A difference in Twitter strategy
Labour and the Conservatives are going about Twitter in two very different ways. Where the Tories follow just 1,600 people, the Labour account follows over 15,000, earning it more followers - 212,000 compared to the Conservatives' 156,000.
But on Facebook, Labour's game isn't as strong. Its page has 298,000 likes, compared to 467,000 for the Tories and a strong second place of 454,000 for Ukip. The Scottish National Party is fourth with just over 200,000 likes, while the Lib Dems are fifth with 112,000.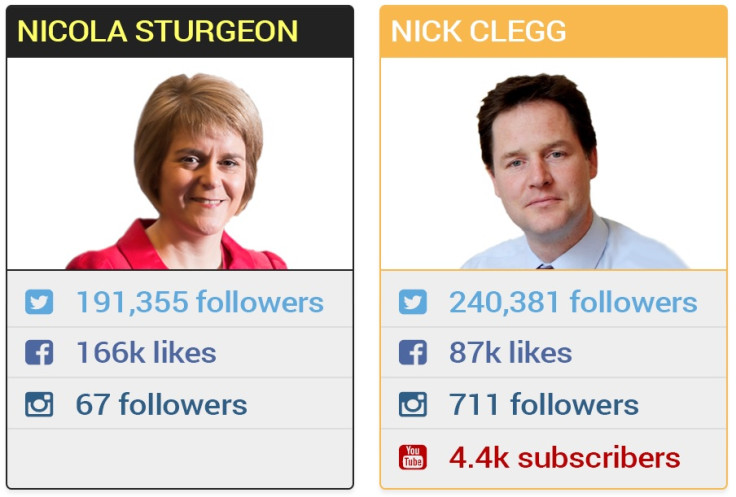 Nicola Sturgeon has an undisclosed number of YouTube subscribers
IBTimes UK
Although we can't expect online popularity to win an election, this experiment has at least given us useful takeaways; Cameron and the Conservatives are popular across the board, apart from Instagram, where they choose not to engage, and the party's own Twitter account, where Labour wins through tweeting more often and following more people.
Miliband's Twitter account defies his critics' claims that he lacks the personality to be leader, comfortably beating Farage and Sturgeon, and almost doubling third-place Clegg.
No party seems particularly interested in the sepia-filtered world of Instagram, while video audiences across the board rarely broke into five figures, let alone six.
© Copyright IBTimes 2023. All rights reserved.