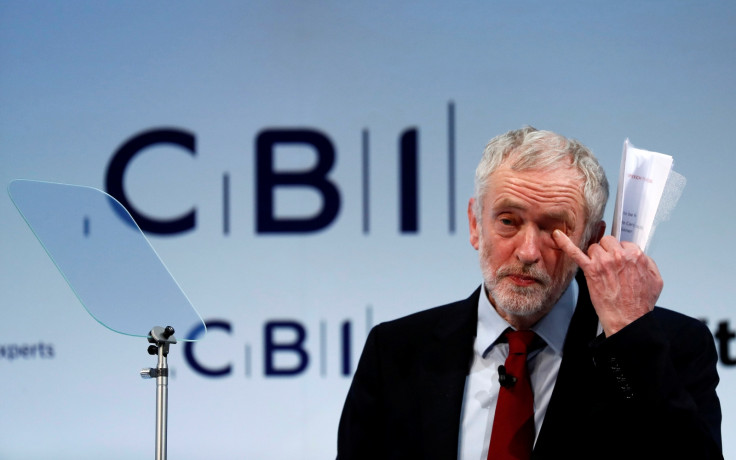 Labour's fortunes are waning to such an extent that the party may win fewer than 150 seats at the next general election, which would be its worst result since before World War Two, according to a report.
The analysis from the Fabian Society puts the slump in the party down to leader Jeremy Corbyn's unpopularity, its lack of support in Scotland and its lack of direction on Brexit.
The study looked at poll data and trends and found Labour's election results in the past four decades were around 8% behind polling data, which in 2020 would see its vote decline to 20% or less. If this happened, the Conservatives could win as many 400 seats at the next election to deliver a resounding majority.
The report's author, Andrew Harrop, said Corbyn's team has "no roadmap" to win back the four million voters who have deserted Labour since 2015.
"In place of the sound and fury of Jeremy Corbyn's first 12 months, there is quietude, passivity and resignation. And on Brexit, the greatest political question for two generations, the party's position is muffled and inconsistent. This is the calm of stalemate, of insignificance, even of looming death," he said.
He said that the party needed to be the party of the "cultural middle", appealing to both voters who supported Brexit, who Ukip and the Tories are both chasing, and those who opposed it.
He also pointed out the difficulties the party will face after the shake-up of constituency boundaries, adding that for Labour to win a majority in 2020, it would need to beat the Conservatives by more than three million votes.
"Even before Labour's current problems, this was unlikely. It is currently unthinkable," Harrop said, adding that with such a small chance of winning power outright, it needed to form alliances.
"So a wounded Labour Party will have to get used to the idea that it will need to work alongside others. But the party is not going to die either, because the quirks of the British electoral system create a firebreak: even if Labour's vote share plummets, the party will still have far more MPs than any other opposition party and a sufficient parliamentary platform to start to rebuild."
Meanwhile, the general secretary of the Unite union, Len McCluskey, said Corbyn should look at quitting as Labour leader if his party's popularity does not improve before Britain goes to the polls.
He told the Mirror: "Let's suppose we are not having a snap election. It buys into this question of what happens if we get to 2019 and opinion polls are still awful.
"The truth is everybody would examine that situation, including Jeremy Corbyn and [deputy leader] John McDonnell. These two are not egomaniacs, they are not desperate to cling on to power for power's sake," the Mirror reported him as saying.