A bipartisan group of 10 electors is demanding a briefing from US intelligence officials regarding ongoing investigations into Donald Trump's ties to Russia, Its request has the support of Hillary Clinton's campaign. The group made the request in an open letter to National Intelligence Director James Clapper.
Clinton's campaign announced on Monday (12 December) that it supported the electors' demand in its first show of public support for efforts questioning Trump's win, Politico noted. "The bipartisan electors' letter raises very grave issues involving our national security," Clinton's former campaign chairman John Podesta said in a statement.
"Electors have a solemn responsibility under the Constitution and we support their efforts to have their questions addressed," Podesta continued. He noted that the Clinton campaign repeatedly "decried the interference of Russia in our campaign" and its efforts to favour Trump.
Podesta, who himself was targeted in email hackings during the campaign, continued: "Despite our protestations, this matter did not receive the attention it deserved by the media in the campaign. We now know that the CIA has determined Russia's interference in our elections was for the purpose of electing Donald Trump. This should distress every American."
The campaign's statement follows the open letter from the nine Democratic electors and one Republican elector to Clapper. The group includes Democratic Minority Leader Nancy Pelosi's daughter Christine, a former member of Congress from New Hampshire and the Texas Republican elector who publicly announced he would not vote for Trump on 19 December.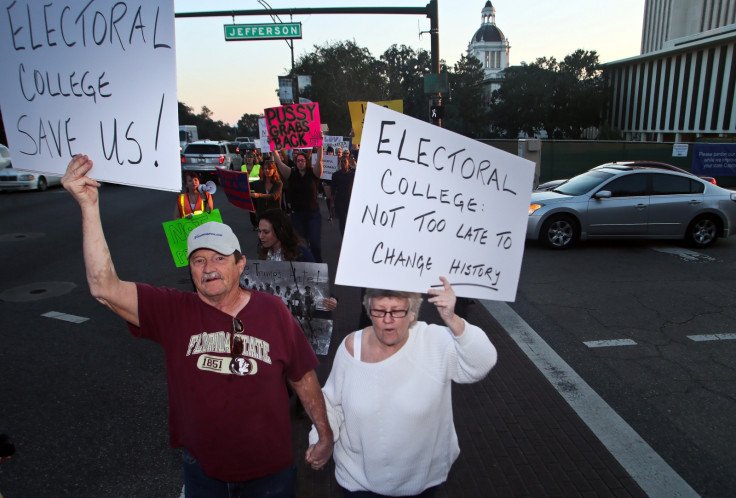 "The Electors require to know from the intelligence community whether there are ongoing investigations into ties between Donald Trump, his campaign or associates, and Russian government interference in the election, the scope of those investigations, how far those investigations may have reached, and who was involved in those investigations," the group demanded.
"We further require a briefing on all investigative findings, as these matters directly impact the core factors in our deliberations of whether Mr Trump is fit to serve as President of the United States."
Pelosi said that the information would also be helpful for Congress members ahead of Cabinet confirmation hearings. "Was this all just happenstance, happening around Donald Trump without any of his agents encouraging it, other than the statements he himself made, or whether there is in fact more information?" she told ABC News.
The letter is signed by Democrats Christine Pelosi (California), Carol Shea-Porter (New Hampshire), Terie Norelli (New Hampshire), Bee Hollingsworth (New Hampshire), Dudley Dudley (New Hampshire), Anita Bonds (Washington DC), Clay Pell (Rhode Island), Courtney Watson (Maryland) and Michael Baca (Colorado), along with Republican Chris Suprun (Texas).
Pelosi announced that the media should "stay tuned" for additional backers, ABC News reported.
The demand by the electors follows a suggestion by Democratic Congressmen David Cicilline (Rhode Island) and Jim Himes (Connecticut) that the Electoral College should consider if it should block Trump's election. A group of Democratic electors led by Baca, known as the Hamilton Electors, are also attempting to convince fellow electors not to vote for the president-elect.