President-elect Donald Trump tweeted on Monday (12 December) that he would announce his pick for secretary of state on Tuesday morning. The announcement follows weeks of rumours about who Trump will choose for one of the most important positions in his Cabinet.
Recent reports claim Trump will pick ExxonMobil CEO Rex Tillerson as his secretary of state. However, Trump's pick could face an uphill battle among senators in the president-elect's own party. Tillerson is a controversial pick, not just for his lack of experience in government or diplomacy, but for his close personal relationship with Russian President Vladimir Putin.
Trump has given no clue as to who he will choose, but he praised Tillerson in an interview on Sunday. "He's much more than a business executive. I mean, he's a world-class player. He's in charge of, I guess, the largest company in the world," Trump said on Fox News Sunday. "To me, a great advantage is he knows many of the players, and he knows them well."
According to CNN, any attempt to block Tillerson's appointment could ally Democrats who are concerned about his potential conflicts of interest and Republicans looking to take aim at his connection to Russia.
In an interview with CNN on Saturday (10 December), Arizona Republican Senator John McCain said he sees Tillerson's relationship with Putin as a red flag.
"It is a matter of concern to me that he has such close personal relationship with Vladimir Putin," the former GOP presidential nominee said on CBS's Face the Nation. "And, obviously, they have done enormous deals together, that that would colour his approach to Vladimir Putin and the Russian threat."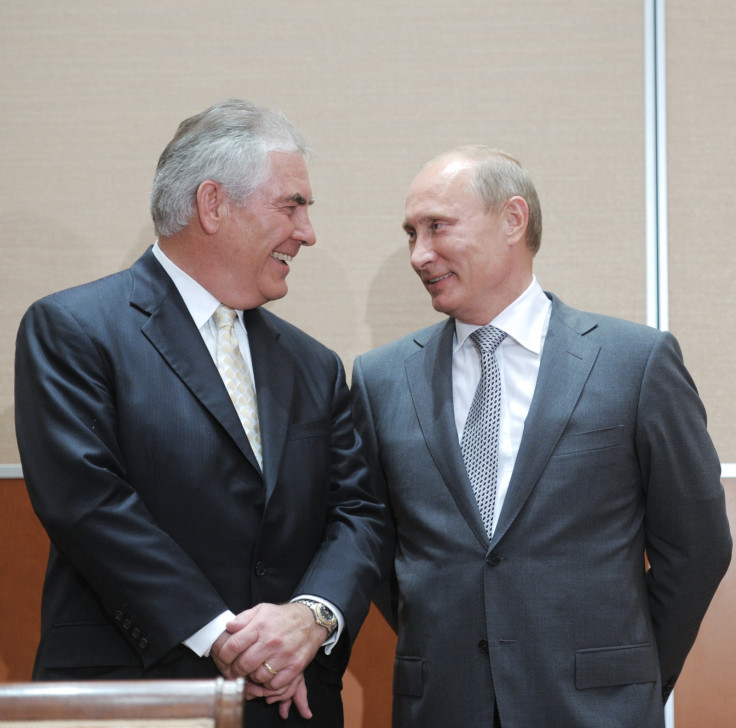 Fellow Republican Senator Marco Rubio of Florida also expressed his reservations about Tillerson's Moscow connections. "Being a 'friend of Vladimir' is not an attribute I am hoping for from a #SecretaryOfState," Rubio tweeted.
Mitt Romney, the 2012 Republican presidential nominee, has also been a top contender for the position. According to BloombergPolitics, Trump called Romney on Monday to let him know that he had not been chosen.
Romney, a critical opponent to Trump's campaign, was a source of contention within the transition team. Senior aide Kellyanne Conway openly opposed Romney as a contender for the position. "There was the Never Trump movement and then there was Mitt Romney," Conway said.
Other names being reportedly considered for the position are former US ambassador to the UN John Bolton, Tennessee Senator Bob Corker, former CIA director David Petraeus, ex-Ford Motor Co CEO Alan Mulally, Representative Dana Rohrabacher from California and former New York City Mayor Rudy Giuliani.
However, it has been reported that Giuliani recently removed himself from the running for any position in Trump's administration.