Ellen DeGeneres is 'proud' of wife Portia de Rossi for her new art venture
The Australian actress launched her art venture General Public.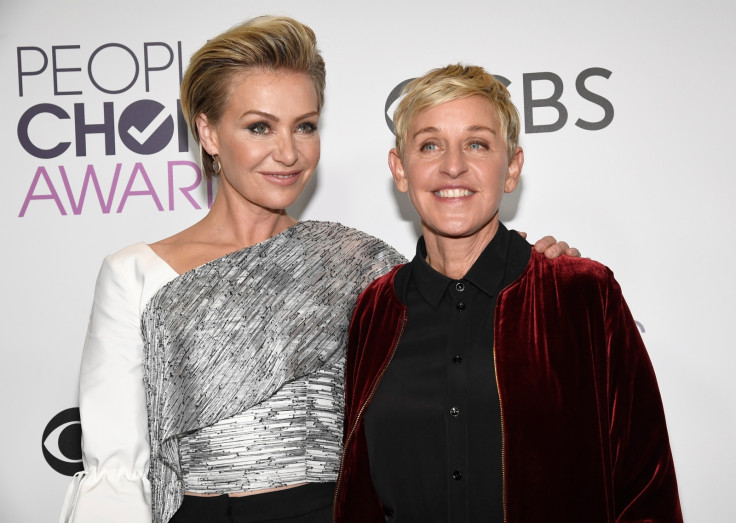 Ellen DeGeneres never misses a chance to gush about her wife Portia de Rossi. On Friday, 2 June, the talk show host took to Instagram to share the news that her actress wife has launched her art venture General Public.
"I'm so proud of my wife," the comedian captioned an image of the couple relaxing on sofa at the lounge of what looks like Portia's new office.
The Instagram account of the actress' new venture has a series of images featuring art pieces. In one of the images, 59-year-old talk show host is clicking a picture of her wife of nine years who seems to be immersed in looking at a painting.
De Rossi made a shocking exit from ABC's hit series Scandal season 6 and hinted at her forthcoming ambitious creative venture. However, she never really opened up about her dream project.
"It's a little premature to talk about at this point but it's along the lines of my earlier passion for art and to get art into the hands of anybody who wishes to own it. It's what I wanted to do with my career a long time ago and then I fell into acting," she told Hollywood Reporter soon after her character Elizabeth North died on the show.
Responding to her wife's on-screen death, DeGeneres had said: "I'm proud of my wife for her epic performance on #Scandal. I will miss Lizzie Bear, but I'm glad Portia Bear is sitting right next to me".
The 44-year-old Australian actress weighed in on her revolutionary idea of using technology to allow more people enjoy art rather than a "privileged few".
"Now I really have returned to the idea of having a business and being a business owner and having my love of art being incorporated into my business venture," she said. "There is technology that enables more people to enjoy art rather than a very privileged few. This business concept is to democratize art and get it into the hands of the people who appreciate it and want to own it."
The couple tied the knot in 2008, and have battled separation rumours over the past few years due to their low-key public life.
However, unfazed by the reports, they keep showering their love for each other. In the first week of May, DeGeneres marked the 20th anniversary of her coming out as a lesbian and celebrated the milestone by kissing her beloved wife.
© Copyright IBTimes 2023. All rights reserved.