Elon Musk has revealed the next stage of his vision to transport cars through a network of underground tunnels at more than 120mph on a fleet of electric sleds.
A video posted to Instagram shows how the sled would blast its way through a tunnel barely wider than its own width, carrying a Tesla car across an entire city in a matter of minutes.
Musk claimed such a system could transport cars from Westwood, Los Angeles to LAX airport – a distance of 12 miles which usually takes half an hour to drive – in five minutes. The video comes just a couple of weeks after a video published on YouTube (below) demonstrated how the subterranean transport network would operate.
The project began when Musk tweeted in December 2016 about being stuck in the notoriously bad Los Angeles traffic. Musk mused that digging tunnels would help ease the congestion, then announced a month later that tunnel boring under a new firm, The Boring Company, would begin shortly.
Plans for the first tunnelling routes were then revealed by Musk. "Full length of first tunnel will run from LAX to Culver City, Santa Monica, Westwood and Sherman Oaks. Future tunnels will cover all of greater LA."
The Boring Company is one of several companies currently led by Musk. He is the chief executive of both electric car company Tesla and rocket manufacturer SpaceX, with which he hopes to build a human colony on Mars by the end of the next decade.
Musk also runs a company called Neuralink, which he hopes will first combat brain diseases like epilepsy, before one day selling a commercial way to improve a customer's brain, giving them increased memory or improved mental performance.
The company's first boring machine, called Godot, is currently being installed at the mouth of the tunnel. Once complete, Musk says the boring machine will be "a few hundred feet long". The goal, as revealed during a TED talk in April, is to increase the current speed of tunnel boring tenfold, from around 300 feet per week to one mile per week.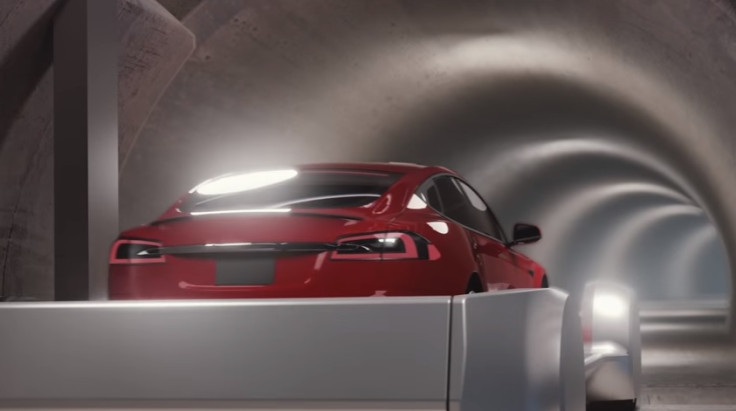 The tunnel used to show off Musk's electric sled, which is said to travel at up to 200km/h (124mph), appears to be the same test track used to test equipment for hyperloop, the 800mph train partly developed by Musk.
As a final flourish, and because Musk can't resist injecting a bit of humour into everything he does, he posted a photo to Instagram of Gary, the "office snail" which The Boring Company is attempting to dig faster than.