Nigeria's authorities have been embarrassed yet again by confusion over the fate of 200 schoolgirls kidnapped by Islamist group Boko Haram in Chibok in April. The country's military has been forced to retract a statement that some of the girls from Chibok were now safely in military custody.
Earlier, army spokesman Brig Gen Chris Olukolade was quoted as telling Nigerian news outlet The Cable: "some of the abducted Chibok girls are already in the barracks." Later, however, he was forced to retract his statement, saying: "We found out that they are not the same girls. They are different."
A similar mistake was made in April, when a few days after the mass kidnapping from a school in Chibok it was claimed that almost all of the girls had been freed. 57 girls did manage to escape in the early days following the audacious kidnapping - but none are thought to have been freed since.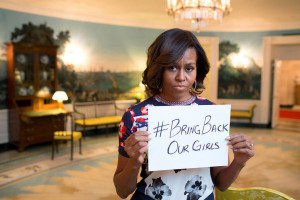 The mass kidnapping led to an international campaign, #bringbackourgirls. Parents of those abducted in Chibok also staged protests. However almost six months later, many are still missing. Boko Haram - whose name translates as "Western education is forbidden" - had threatened to sell the girls in the marketplace as "sex slaves".
Shortly after the girls went missing a video appeared showing around 100 of the girls wearing burqas and reciting the Koran. Boko Haram suggested they were ready to swap the girls for militants in Nigerian prisons, but this seems to have been rejected. However in recent days rumours have circulated that a deal is now being struck.
Nigeria's President Goodluck Jonathan has also been criticised over his handling of the kidnapping. He only agreed to meet parents of those abducted after being urged to by Pakistan schoolgirl turned rights activist Malala Yousafzai in July. Last month he also had to ask supporters to stop using the tag #BringBackJonathan2015 as it was similar to #bringbackourgirls. The slogan was not officially endorsed.