US Jet Blue Aircraft Emergency Landing After Pilot's al-Qaida Bomb Scare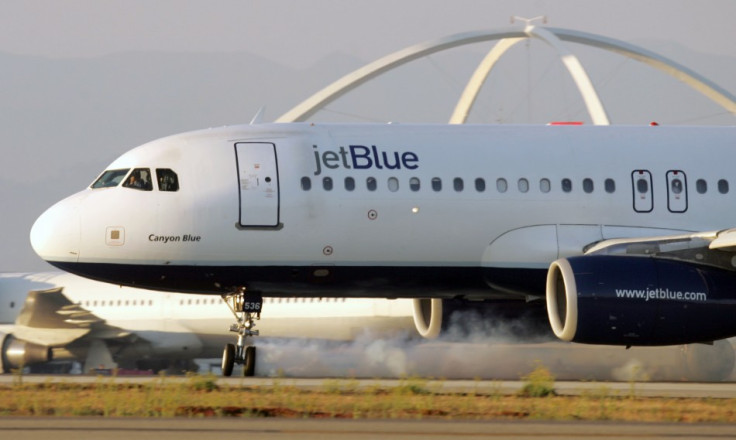 A US Jet Blue flight was forced to make an emergency landing on Tuesday after the pilot started behaving erratically and shouted there was a "bomb "on the plane.
The Jet Blue flight was flying from New York to Las Vegas and had to make emergency landing in Amarillo, Texas. A Jet Blue statement said that the flight had to be diverted to Amarillo because of a medical situation involving the captain.
Panic spread inside the plane as the captain came out of the restroom behind the cockpit shouting "Iraq, al-Qaida, terrorism, we're all going down!" the Amarillo Globe-News newspaper reported.
"He started screaming about al-Qaida and possibly a bomb on the plane and Iraq and Iran and about how we were all going down," the AFP quoted one of the passengers as telling the Globe-News.
"It seemed like he went crazy. We all knew in the front rows if he got back in the cockpit, we were going down," another passenger told the Globe-News.
The plane's co-pilot locked himself inside the cockpit when the captain went out of the cabin as he was showing erratic behaviour during the flight.
"The co-pilot became concerned that the captain exhibited erratic behaviour during the flight. The captain had exited the cockpit during the flight, after which the co-pilot locked the door. When the captain attempted to enter the locked cockpit, he was subdued by passengers. After the flight landed safely, local law enforcement secured the pilot and he was transported by ambulance for medical evaluation," the AFP quoted the Federal Aviation Administration (FAA) statement as saying.
© Copyright IBTimes 2023. All rights reserved.