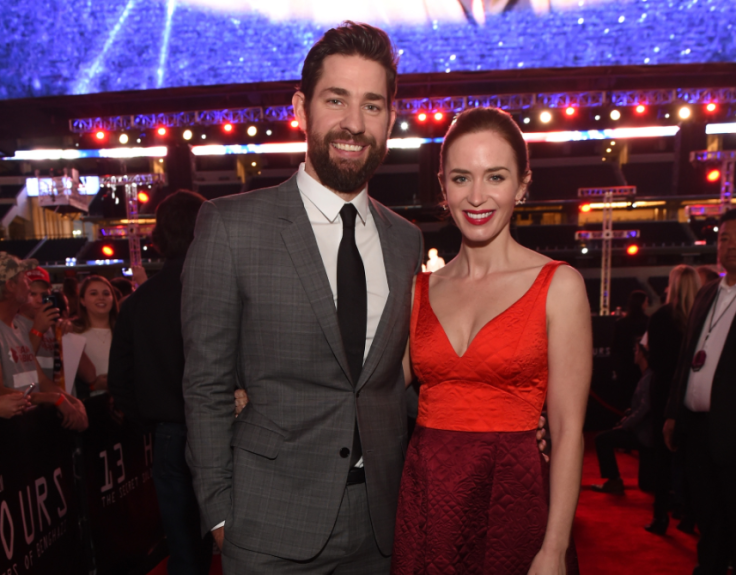 Fourth of July became all the more special for Emily Blunt and John Krasinski, who announced the birth of a new family member on Monday. The 36-year-old actor took to his Twitter account to share the news of the birth of the couple's second daughter, Violet.
"What better way to celebrate the 4th... than to announce our 4th family member!!!" Krasinski wrote on the micro-blogging site. "2 weeks ago we met our beautiful daughter Violet."
Blunt, who had announced the news of her pregnancy in January, gave birth two weeks ago. She already has another daughter – two-year-old Hazel – with husband Krasinski.
Speaking about her first pregnancy, the British actress had earlier said during an interview, "The first pregnancy is the most self-indulgent thing in the world because you get massages and prenatal yoga and hypnotherapy CDs."
However, the mother-of-two asserts that the situation is not similar the second time around, "During this one I forget that I'm even pregnant. I'm hoisting my 2-year-old around!"
The happy father had also opened up about the jitters of parenthood, "I had my daughter [and there was this] existential crack that happens to everybody in a different way — it's a mirror that you hold up to yourself and who you are and who you want to be," The Office actor had earlier revealed to US Weekly.
"I think those are amazing, challenging moments. That you all of a sudden relate to your parents more, you relate to your brothers more, you relate to your friends more," he added.
The Huntsman: Winter's War actress was spotted happily flaunting her baby bump on the Oscars red carpet this year, dressed in a blue, embellished Prada gown.
Blunt and Krasinki got married in a romantic Italian wedding in July 2010 after dating for two years.