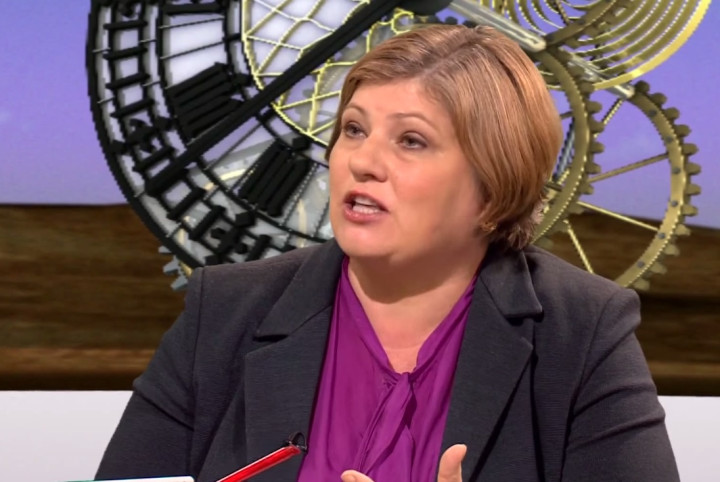 It only took a single tweet for Emily Thornberry to end her Labour front bench career. And she didn't even use up all 140 characters.
She resigned as Labour's shadow attorney general, a role she held for three years, after tweeting a picture she'd taken showing England flags hanging from a house in Rochester with a big white van out the front of it.
"Image of #Rochester," she wrote. And the wolves feasted. She was accused of outright snobbery, of being anti-working class culture, of typifying the elitism of Labour's top brass.
And it harmed Labour leader Ed Miliband's attempts to stem the flow of his voters to populist Ukip, which claims his party is out-of-touch with what working class English nationals think.
Ukip won the by-election in Rochester in which Thornberry had been campaigning when she sent the ill-fated tweet. The owner of the house, Dan Ware, called her a snob.
Might Thornberry be the ultimate champagne socialist?
That tweet.
It was ambiguous. But it certainly gave the sound of a dog whistle to knowing liberals. That such a display of England flags is the typically uncouth, ill-educated nationalistic scene we'd expect to see in a constituency of knuckle-draggers about to elect a Ukip candidate as MP.
Thornberry eventually apologised for any unintended offence, told people to display England flags with pride and resigned (or was more likely sacked) from the shadow front bench. Labour played it badly.
The furore on Twitter was stoked by right-wingers and Tories with deeply political motivations. Labour and Thornberry should have used the tweet's ambiguity to their advantage – that it was being deliberately misinterpreted in a dirty tricks smear campaign against her.
And they could have used a 2012 tweet from Thornberry, praising a house smothered in England flags, to back up their case. But they didn't. Labour panicked and confirmed all of their critics' assumptions: this was about snobbery.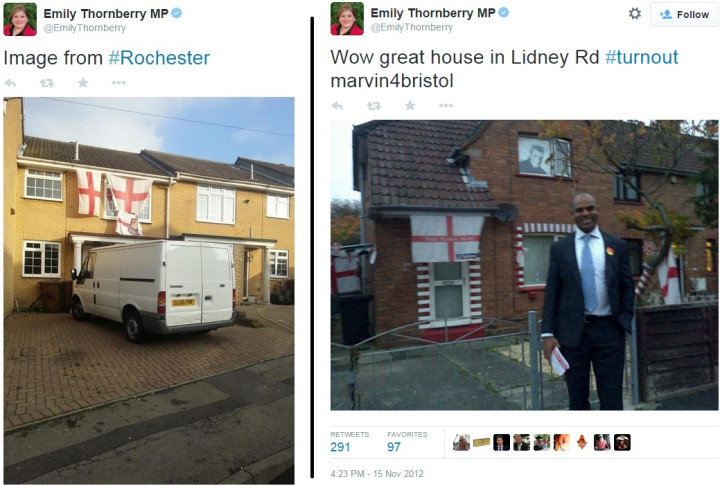 She couldn't be the MP for a more stereotypically metropolitan liberal elite place.
What doesn't help Thornberry's case is that she is the MP for Islington South and Finsbury, home to the much loathed and stereotyped Metropolitan Liberal Elite. Where wealthy sandal-wearing Guardianistas pontificate on politics as they eat quinoa burgers and patronise the poor and stupid working classes. Or something like that.
And she made things worse for herself by accusing her critics of prejudice against Islington. To which there may be some truth, but when you're in a hole you should stop digging. Thornberry fetched a JCB.
Not even Malcolm Tucker could successfully spin accusations of snobbery against the white working classes into a prejudiced assault on liberal Islington.
She bought up ex-social housing and rents it out.
In 2007, the Islington Tribune reported that Thornberry and her husband had forked out more than half a million pounds to buy up a housing association property in Finsbury, which they then rented out to private tenants – including her parliamentary aides.
Thornberry has spoken out in the past about London's housing crisis and the lack of homes, despite herself being a private landlord. She also has interests in property in Guildford and south London.
She defended herself in the Tribune report: "We bought this property in the spring at auction. This is not about property speculation – we are providing cheap and cheerful accommodation for some young people."
She sent her children outside of London to be schooled.
Thornberry's daughter and one of her sons were sent to Dame Alice Owen's School in Potters Bar, miles away from Islington. She drew criticism for spurning local schools, some poor performing but to which many of her constituents had no other choice except send their children.
Though Dame Alice Owen's School was originally based in the borough, it relocated in 1973. But it maintains a connection with Islington and allows in a handful of students from there each year. It's partially selective on an academic basis and has very high results.
Labour has attacked grammar schools in the past and would like to see them eliminated from the education system.
"I celebrate her good sense as a parent and deplore her hypocrisy as a politician," said former chief schools inspector Chris Woodhead to the Evening Standard.
"When will those who espouse the virtues of comprehensive education apply the logic of their political message to their children?"
But in Thornberry's defence...
Her dad, Cedric Thornberry, would become assistant general secretary of the United Nations. But she grew up on a council estate from the age of 7 with a single mother, a teacher, after her parents divorced. The bailiffs had kicked them out of the family home.
"They were raised on benefits, second-hand clothes, free school dinners, food parcels; often, she says, they couldn't afford to heat the house," according to a Guardian profile of Thornberry.
"Her mother became a Labour councillor and later a mayor; she joined the party, she says, because 'it wasn't fair that things had been so hard'."
Thornberry has known hardship. And unlike so many frontline politicians, she was educated at a comprehensive school, not privately, before studying law at the University of Kent.
Moreover, she has used her position as MP to campaign against poverty and for gay rights, among other noble issues. And she was one of the few MPs to come out of the expenses scandal unscathed. She even puts some of her salary towards her parliamentary office expenses.
None of which would mean she wouldn't have a snobby attitude to the white working class like her critics accuse her of. But it's probably not as clear cut as they're making out.