Emmanuel Macron and Francois Bayrou form alliance to counter Le Pen threat
The pair does not want to split the anti-Le Pen vote.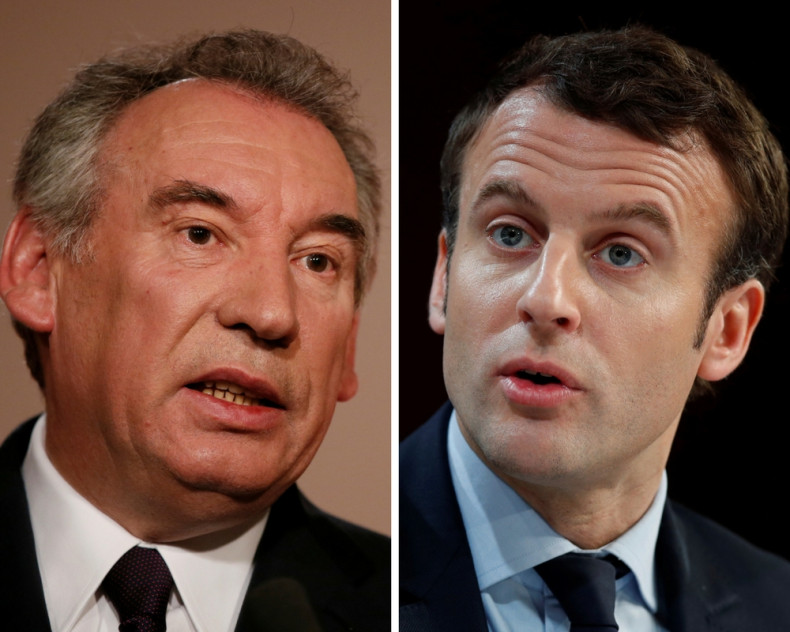 French presidential candidate Emmanuel Macron has accepted an alliance with veteran politician Francois Bayrou.
With right-wing leader Marine Le Pen threatening in the polls, Macron confirmed the partnership with Bayrou on a platform "based on values and ideas".
Bayrou, who ran three times for president and won more than 18% of the vote in the 2007 election, was expected to join the race on his own ticket, but surprised many when the alliance with Macron was announced.
The 65-year-old was forecast to secure roughly 5% of the vote if he ran independently in this year's race, with a majority of those votes now expected to shift to Macron.
Macron had been polling roughly on a par with centre-right rival Francois Fillon, but is now expected to edge him out for the head-to-head showdown with Le Pen.
Bayrou said he wanted the alliance with Macron because Le Pen posed a "major and immediate threat for our country and Europe".
"I have two paths, to stand myself or to look for an unusual solution. I have decided to offer Emmanuel Macron an alliance," Bayrou told a press conference, reported the Guardian.
"Perhaps it's a sacrifice for me, but I feel there are times one has to rise to the seriousness of the situation and consider how to get out of it. It's not a time for me to think of myself, but of my country."
As a condition with his alliance for Macron, Bayrou demanded a clean up of the political system, which has been rocked by scandals across the spectrum. Both Fillon and Le Pen have been accused of separate "fake jobs" scandals – the former concerning the French taxpayers and the latter concerning European Union funds.
"French people feel politicians' words count for nothing. They have no confidence in the words and promises they hear ... we have to convince the French our actions can match our words. It's a good time to do it even if it is a sacrifice," Bayrou said.
"Perhaps this can be the foundation of a new approach in French politics," he added.