French presidential candidate, Emmanuel Macron plans to take the road less travelled and keep away from populist and extreme strategies in his campaign. Following his meeting with Theresa May on 21 February, the centrist told reporters that he plans to learn from the mistakes of Hillary Clinton's campaign as well as those made by David Cameron's Brexit.
"In the current environment, when extremes and anti-globalisation win elections, that is probably the best moment for France to decide to do the opposite," he said, according to The Guardian.
Following his meeting at 10 Downing Street, Macron addressed a 3,500-strong crowd made up of French expats and politicians, including former Liberal Democrat leader Nick Clegg. In a speech to the audience at Westminster Central Hall, he continued to stress the importance of a strong EU.
"We must believe in Europe, love Europe and breathe Europe," he said, reiterating his earlier call for French nationals to return home and repeated his promise of starting a "cultural revolution" by inviting people in research fields, academics and banking to move to France following Britain's exit from the EU.
His visit to London comes at a time when his numbers in the polls are witnessing a steady slide, as Marine Le Pen continues to lead the race. And despite criticism of his Brexit and pro-Europe views, the leader of the En Marche! movement defended his statements. "In the current environment, if you are shy, you are dead," he explained.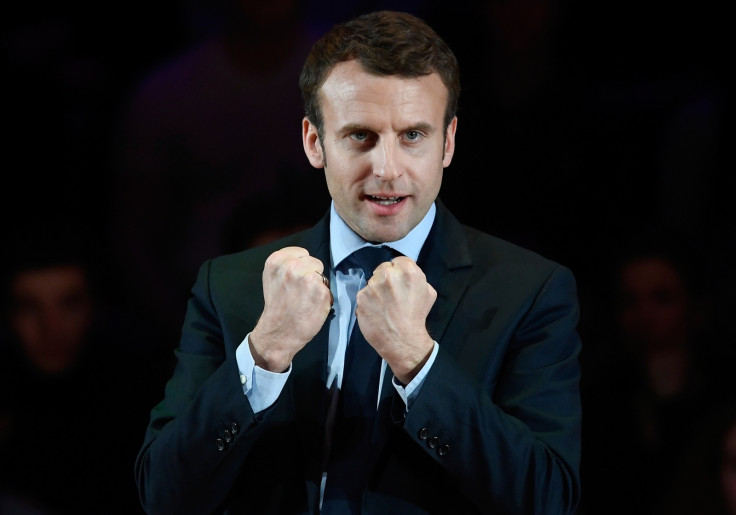 Speaking to The Independent after the evening's event, Clegg opined that Macron's movement could improve France's efforts to strengthen the EU.
"I think in Emmanuel Macron we have possibly the only figure who could use a mandate as a newly elected president of France to help reform and strengthen the European Union at a time when it's under great threat from President Trump, from Putin and from internal dissent. A lot rides on his shoulders," he said.