A relative unknown on France's political scene a year ago, Emmanuel Macron has emerged as the most likely successor to Francois Hollande. With a reputation as a maverick and at the helm of his independent 'Onwards', Party Macron has inspired and energised an large section of French society with his centrist policies.
Emmanuel Macron Fact File:
Born: 1977
Place of Birth: Amiens
Wife: Brigitte Trogneux
Minister of Economy: 2014-16
Formed his 'Onwards Party:' 2016
Who is Emmanuel Macron?
The Minister of the Economy under Francois Hollande until August 2016, Macron broke with the president's left-wing policies demanding he follow a more central course.
Macron is the youngest of the three front running candidates, born in 1977. He initially started a career in the civil service but left in 2008 to work for the Rothschild investment bank in 2008. Departing from investment a millionaire, Macron subsequently took a position in 2012 as an adviser to Hollande.
In France, where the electorate is famously uninterested in their leaders' private lives, Macron's marriage has raised a few eyebrows. His wife Brigitte was in fact his high-school teacher and the story of their unusual romance has become a well-publicised story during the campaign.
Macron was 15 at the time (which is also, incidentally, the age of consent in France) and the romance with his teacher, 17 years his senior began as they worked on a play together.
What does he stand for?
Part of Macron's appeal is that he has been able to appear as something of a blank canvas to his supporters. Much of his election platform is yet to be nailed down.
Sky News reports that in Lyon speech he pledged to increase France's defence spending from 1.8% to 2% to help fight terrorism. As an economist in Hollande's Socialist government he looked to deregulate France's restricted labour market and boost the country's ailing economy.
In the style of centrists such as Tony Blair and Bill Clinton before him, Macron has sought to pitch a wide tent spanning the political divide. He has looked to appeal to individuals disillusioned by an increasingly polarised left and right.
"I am not going to say that the left or right is meaningless, that they are the same thing, but are these divisions not a hurdle? I want to reconcile the two Frances that have been growing apart for too long," he was quoted as saying.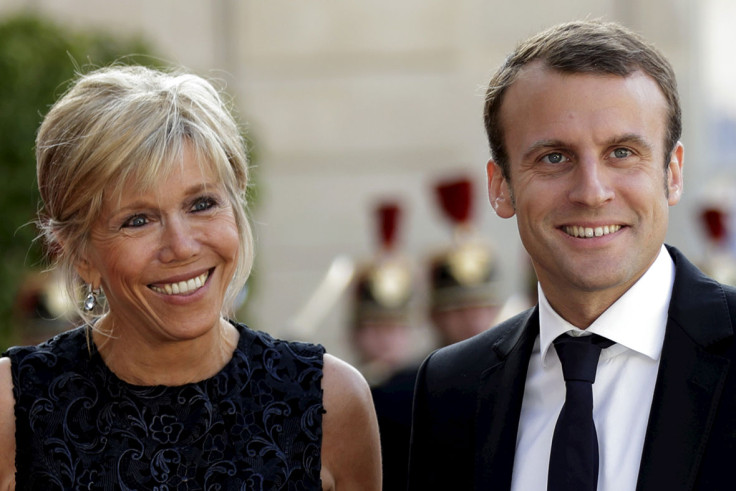 Russian Hacking controversy
Richard Ferrand, the chief of Macron's independent Onwards! party, has said Kremlin controlled media such as Russia Today and Sputnik have engaged in a fake news campaign against the candidate.
"Two big media outlets belonging to the Russian state Russia Today and Sputnik spread fake news on a daily basis, and then they are picked up, quoted and influence the democratic (process)," Ferrand was quoted by Reuters as saying.
Macron has been accused by the Russian media as being part of the US global banking elite by both international facing but Kremlin backed outlets.
However, Russia Today has said it refutes allegations that it is engaged in spreading fake news.
"RT adamantly rejects any and all claims that it has any part in spreading fake news in general and in relation to Mr. Macron and the upcoming French election in particular. Furthermore, we are appalled that such baseless accusations are taking place on quotidian basis," the outlet said in a statement.
Everything you need to know about the French presidential election