France's presidential candidates have squared off in a televised debate ahead of elections set to take place later this month.
The 11 candidates included frontrunners Emmanuel Macron, Marine Le Pen and François Fillon as well as those with less than 1% support at the polls.
In a marathon debate, which nearly lasted four hours, the candidates discussed everything from corruption to leaving the EU to job creation and to modernisation of the French economy.
However, with no standout winner, the debate did more to highlight the fissures in France than to indicate who might be the next leader of the country.
But with Macron and Le Pen both leading the polls at 25%, they both rounded on each other in the hopes of denting their respective counterpart's prospects.
As Le Pen made arguments to ditch the Euro, leave the bloc and impose a border tax on imports, she suggested her counterpart was out of touch with the country on such issues.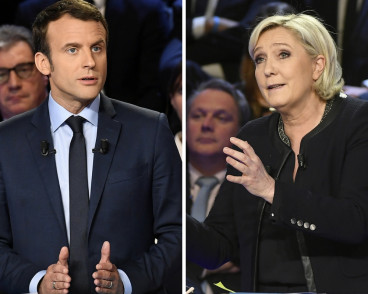 "You should go talk to farmers from time to time, Mr Macron," the far-right leader of Front National said.
"Our vegetable and fruit producers say they can't face the unfair competition from countries where wages are a fourth or a fifth our own."
In response to Le Pen's protectionist views, Macron invoked his hometown of Somme, which was a major battlefield in World War One.
"Nationalism is war," he said. "I know it. I come from a region that is full of graveyards."
Macron is expected to defeat Le Pen by a margin of 61 points to 39, should the pair proceed to the head-to-head round of voting, after the candidates are narrowed down on 23 April.
Fillon, who led the polls until a "fake jobs" scandal brought him tumbling down, tried to act more restrained and statesmanlike in the hope of regaining voters' trust.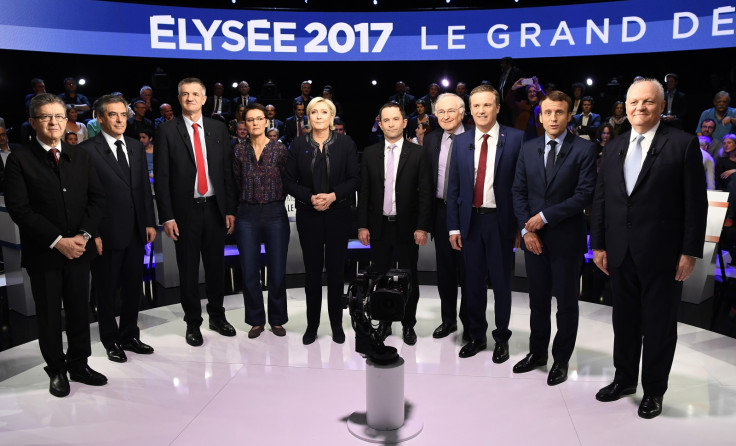 "I am entitled to the presumption of innocence," he said.
"I'm not intimidated ... I'm still here, as you can see," he added and said that the French would "make their own judgment" in the election.