"I am happy and thankful for this opportunity," were the words of Manchester United's record signing Paul Pogba on Friday (13 January). It was not a response to his summer return to Old Trafford, or discovering he would play against his club's greatest rivals Liverpool in the Premier League; but instead a reaction to him becoming the first player to have his own Twitter emoji.
But after his most disjointed, error-strewn and indifferent performance since returning to English football during the visit of the Reds, Pogba's emoji – which earned some 23m impressions upon its release – was his only tangible impact in the 1-1 draw. Another summer signing Zlatan Ibrahimovic scored his 19<sup>th goal of the season to secure a late draw for Jose Mourinho's side, and it is near-impossible not to compare and contrast the performances of the pair this term.
Pogba is rapidly embodying modern-day football's ultimate cliché. Costing a fee which could increase to £93m, and with wages hovering around £15m per annum, he could end up costing United £168m over his initial five-year contract, according to The Daily Mail. With his fluorescent initials cut into the side of his head and cringeworthy celebratory dance moves as the backdrop against Pogba's torrid displays, he is looking increasingly less of a talisman in the United midfield.
In short, Pogba is everything that is wrong with football in its current state; an expensive, crushing disappointment whose focus is more centered on public adulation than a career which is rapidly descending into oblivion. Gobbled up by Georginio Wijnaldum and Jordan Henderson, the Liverpool pair saw the over-pampered Frenchman coming from a mile away and made him trend for all the wrong reasons.
Returning to Pogba's performances, to expect him to dominate every game is unrealistic, however his spectacular failure cannot be ignored. Bar the odd flurry against Feyenoord in the Europa League and then Swansea City, the resumption of Pogba's career at United has been a non-event. Whether it has been his schoolboy defending from set-pieces, complete lack of awareness or how he has been totally outmuscled at regular intervals, every step of Pogba's career at United has been an unmitigated, unacceptable disaster.
That United are being linked with moves with players to operate either in front of, or alongside Pogba in order to bring the best out of the France international tells you all you need to know about his performances up to this point. Antoine Griezmann and Luka Modric are fine footballers in their own right, but there is something strangely perverse about the idea that the world's most expensive player needs others around him to realise his potential. The same has never been said of Lionel Messi, Cristiano Ronaldo and Neymar; a trio he considers his equal.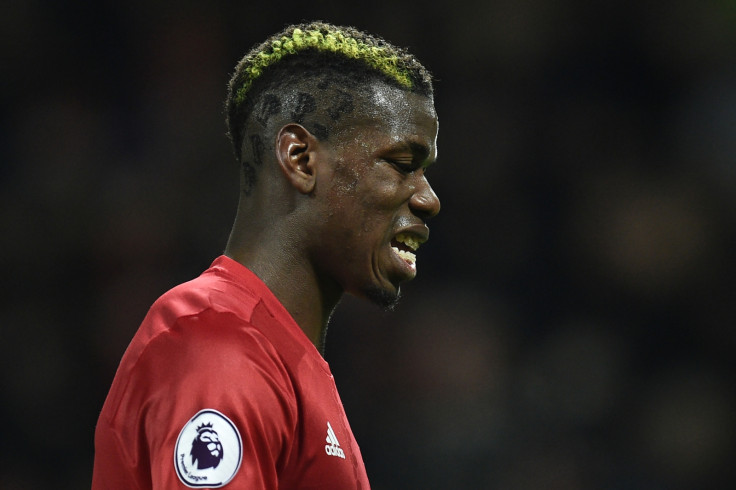 The former Juventus midfielder is arguably the greatest gimmick in world sport; an exercise in marketing and a product of a society which ranks personality over ability. Pogba would do well to remind himself of his humble upbringing to help bring him back to reality, while Mourinho should be plotting his own way of diluting his arrogance and restoring his focus on football. Sponsors and social media may ensure Pogba is never out of the limelight, but only he can ensure his career does not go out like a puff of smoke.