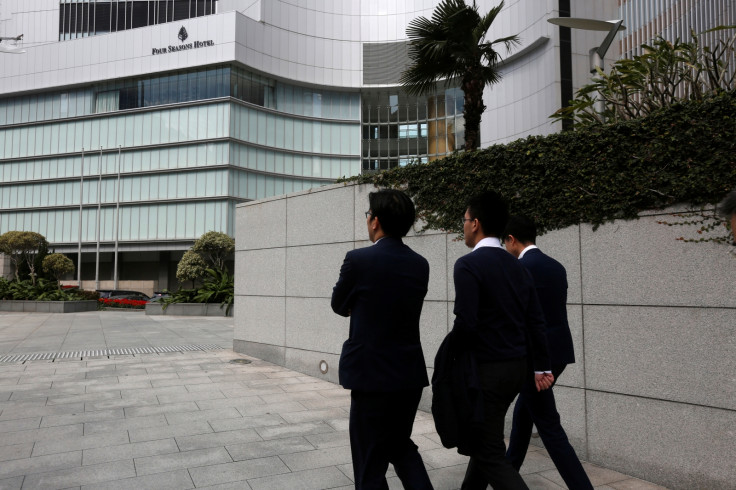 The employees of the abducted Hong Kong businessman Xiao Jianhua have been stopped from leaving mainland China, with many more probably unable to travel, the New York Times reported on 13 February quoting two people familiar with the matter.
The circumstance of their employers' disappearance remain clouded in mystery. The Chinese tycoon was last seen in a luxury hotel in Hong Kong on 27 January, from which he was taken away in a wheelchair, with his head covered, according to sources quoted by Reuters.
Another government source told the South China Morning Post the businessman left the Four Seasons hotel accompanied by an unidentified number of people and that the hotel CCTV footage was being reviewed by the Hong Kong police.
Speaking on condition of anonymity for fear of arrest, a source told the New York Times billionaire Xiao Jianhua is in police custody in China.
In a statement responding to media requests about Xiao's disappearance, the Hong Kong police said "the subject" had entered mainland China through a border crossing on 27 January, although it never explicitly mentions his name.
Xiao, a China-born Canadian citizen with an Antiguan diplomatic passport, was the CEO and founder of the investment firm Tomorrow Group, a holding company with business ties to Chinese politicians operating in various sectors, including IT, commodities and financial services.
The tycoon's company initially issued a statement through the WeChat messaging app, claiming their CEO was simply receiving medical treatment abroad, but that he would be back soon. "It's business as usual at Tomorrow", the statement read, quoted by the South China Morning Post.
The company issued another statement on 31 January, reportedly defending Xiao's loyalty to the Communist Party and denying claims he had been kidnapped. The BBC said both statements have vanished since, the company's WeChat account seems to have been deleted and the Tomorrow Group website is no longer accessible.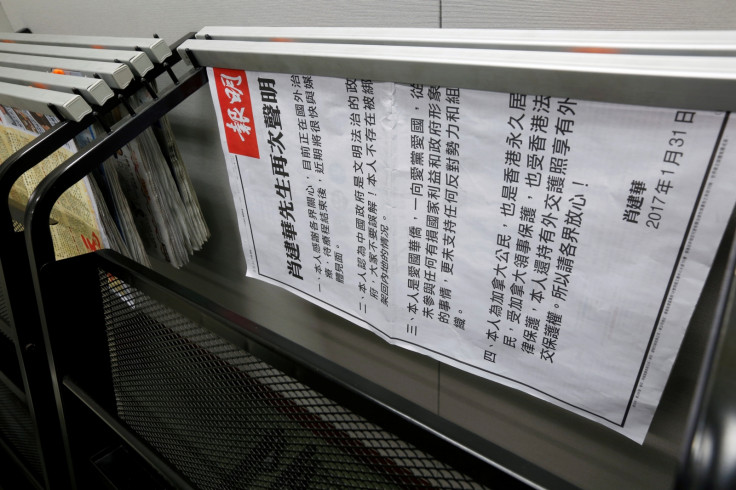 Xiao's abduction by Chinese authorities would come around a year after five Hong Kong booksellers disappeared from the special administrative region only to reappear in police custody in mainland China. The case made sparked fears of Chinese agents acting outside their jurisdiction, as Hong Kong is supposed to be in charge of its own policing under the "one country, two systems" rule, at a time when ties to Beijing are strained by a vocal separatist movement aiming to achieve independence from mainland China.
The possibility of Xiao's arrest already made headlines in 2014, when a spokesperson for the businessman was forced to deny reports the Communist Party leadership was seeking to investigate him. "Leaders rarely give instructions against an individual," a statement to Ta Kung Pao, a pro-party newspaper in Hong Kong said. "Mr Xiao has been living in Hong Kong for many years ...and is a law-abiding entrepreneur."
According to the overseas Chinese news website Boxun, the businessman had fled to Hong Kong after sources from the Ministry of Public Security tipped him off about a corruption investigation ordered by none other than President Xi Jinping.
Xiao, who reportedly surrounded himself with female bodyguards, had close ties to China's elite, including the son of Dai Xianglong, the former governor of the People's Bank of China, and Zeng Wei, the son of former Vice-President Zeng Qinghong.
A New York Times investigation in 2014, quoting an unnamed source, alleged the president's older sister Qi Qiaoqiao and her husband Deng Jiagui had financial dealings with a company founded by Xiao for at least $2.4m. A pro-government student leader at Peking University during the 1989 Tiananmen Square protests, by 2016 Xiao built a business empire worth $6bn according to the Hulun Report.
According to the BBC, Hong Kong police will continue to investigate the case despite one of Xiao's family members asking them to close the probe, claiming Xiao was safe.