Emporio Armani's 'Little Winter Follies' at 2012 Milan Fashion Week (PHOTOS)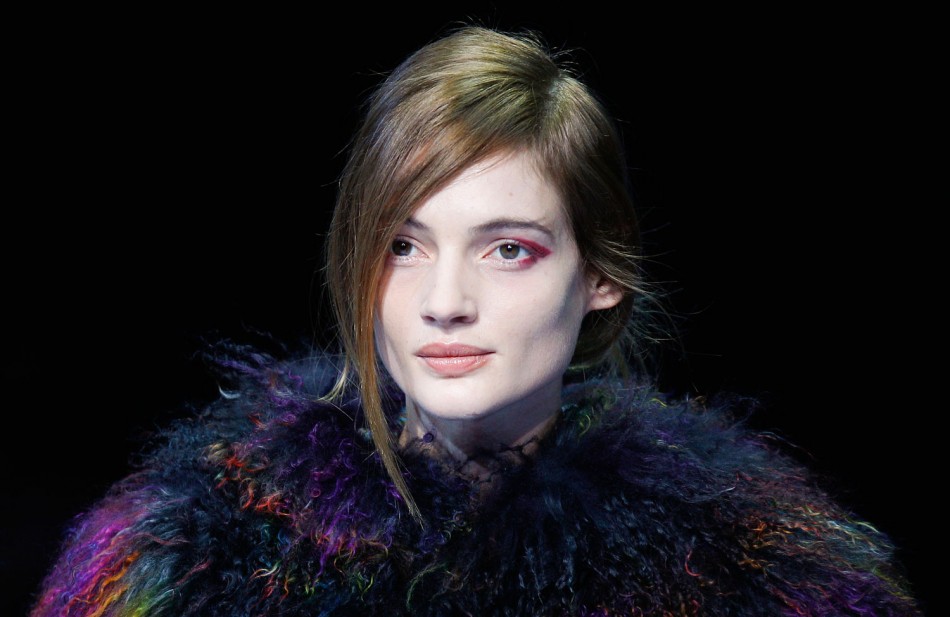 Italian fashion house, Emporio Armani presented a '20s inspired Autumn/Winter collection at the 2012 Milan Fashion Week, with a variety of themed creations from masculine shoulder jackets to coloured fringed fur creations.
Titled "Little Winter Follies", the collection is regarded as an intriguing play on clothes with fun little touches of pure fantasy along with structured calibrated designs.
However, the common element in all the creations was a unique form of trousers ending at the knee with a brand new cuff-effect, finished off with opaque hose. These pants were the centrepiece of the collection and were worn either with belted tops or '20s inspired light flapper dresses.
"I would like you to write that Armani has invented new pants," the Associated Press quoted Armani telling reporters backstage before the show.
The jackets, on the other hand, have straight, masculine shoulders that give a sense of strength to a soft, unstructured line, which is also seen in the cardigans.
The prime colour palettes for the collection were black, white, Indian red and amethyst blue along with sudden flashes of velvet shades.
Apart from this, the designer also made use of large flat Taffeta roses as a functional decoration for blouses and also for knitted and low-cut dresses.
The creations were seen accessorised with long, tambourine-shaped shoulder bags, like huge powder compacts; handbags of floral velvet or velvet combined with net mesh; flat slippers with floral fabric toes, and shiny masculine lace-up shoes.
Start the slideshow to get a glimpse of the Emporio Armani's collection at the Milan Fashion Week:
© Copyright IBTimes 2023. All rights reserved.