Just when One Direction fans were recovering from the shock of Zayn Malik's departure, the singer has provoked another online outpouring.
The 22-year-old pop star has cut his remaining ties with the boyband by changing his Twitter handle from @zaynmalik1D to @zaynmalik.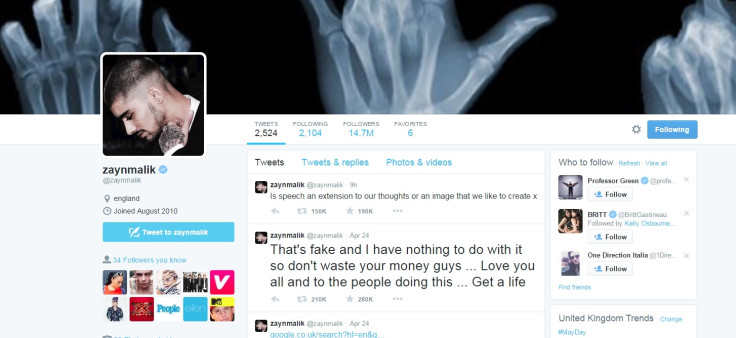 The bold move comes just over a month after he announced that he was leaving the group after five years.
"I'd like to apologise to the fans if I've let anyone down, but I have to do what feels right in my heart. I am leaving because I want to be a normal 22-year-old who is able to relax and have some private time out of the spotlight," he said in a departing statement.
Although he revealed that had grown tired of 1D's fame, it wasn't enough to console scores of distraught One Direction fans.
It's not surprising that many young fans have likened the Twitter change to him stopping over their heart all over again.
In April, world-renowned astrophysicist Stephen Hawking did he best to comfort young girls struggling to accept that Niall Horan, Liam Payne, Harry Styles and Louis Tomlinson were continuing as a foursome by implying that in a parallel universe Malik has not quit.
"My advice to any heartbroken young girl is to pay close attention to the study of theoretical physics, because one day there may well be proof of multiple universes," he said while delivering a talk at Sydney Opera House via holographic projection.
"It would not be beyond the realms of possibility that somewhere outside of our own universe lies another different universe," he continued. "And in that universe, Zayn is still in One Direction."