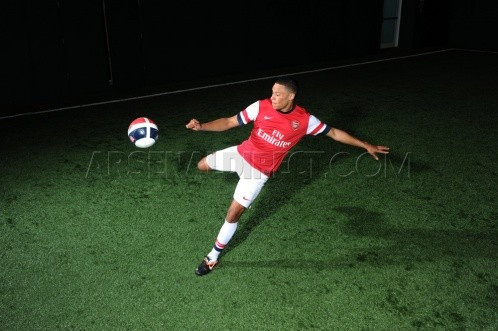 England manager Roy Hodgson has defended Arsenal youngster Alex Oxlade-Chamberlain's inclusion in his 23-man squad for the summer's European Championships by claiming the 18 year old was ready to start games for the national team.
Oxlade-Chamberlain, who can operate either in midfield or on the flanks, is uncapped at the senior level and has only made six league starts for the Gunners this season. However, despite his lack of experience, Hodgson is confident the Southampton academy product can prove worthy of his selection for the summer's showpiece event in Poland and the Ukraine.
"I wouldn't have chosen him if I didn't think he was ready to start games. It won't be easy for him to break into the team given the competition, as we've loaded up in the wide areas because [Wayne] Rooney can't play in the first two matches," the Telegraph quoted Hodgson as saying.
"But I've seen him play in European matches. One of the games where he really sprang to my attention was the Champions League match against Milan. He has a maturity beyond his years. Sometimes there has to be a place in the squad for a precocious talent. It'll help England's future as well," the manger stressed.
Oxlade-Chamberlain has, however, represented the England at under-21 level eight times, scoring four times.
Hodgson also admitted Tottenham midfielder Scott Parker could miss the tournament with an Achilles tendon injury, despite being named in the 23-man squad that was announced on Wednesday. The manager claimed he was confident the-31-year-old would recover in time but has not ruled out a replacement.
"Scott's had an injection which will probably take a week for us to see if it's been successful or not. He could still miss out, although from what I'm hearing, it won't be a problem. He's very confident," BBC quoted Hodgson as saying.
"We've got until the 29 May to finalise the squad and I may still have a call to make on that one if it's looking dubious, if there is a doubt. But I'm very optimistic. The doctor spoke to Scott Parker and Spurs on Wednesday, so I'm confident - but I can't give a guarantee," the former Liverpool boss added.
Liverpool midfielder Jordan Henderson, who was named in the standby list, is likely to take Parker's place in the squad, if the Spurs man misses out.