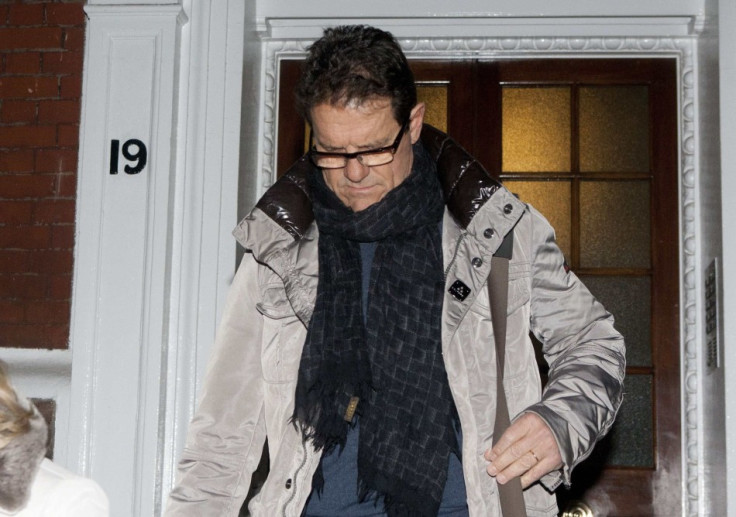 The Football Association's chairman David Bernstein has lifted the lid on his decisive meeting with Fabio Capello at Wembley on Wednesday night, which led to the Italian's resignation.
In a media conference on Thursday at the home of football, Bernstein, sat alongside general secretary Alex Horne, thanked Capello and confirmed the Italian ended his four-year association with the national side, with a handshake, refuting reports he had stormed out of the meeting.
Bernstein confirmed Stuart Pearce will take over from Capello for the next international against Holland later in the month, but he refuted suggestions the Italian's successor had to be English. He also suggested Capello "wasn't happy" about the FA's failure to consult him over the deposition of John Terry as England captain on Friday.
"We all believed the John Terry case would be dealt with in March or April. The FA board took a decision [40 members] on Thursday, we told Fabio, he wasn't happy but accepted the board's decision." Bernstein told The BBC.
"On Sunday the Italian TV interview caused frankly an unsatisfactory situation.
"I don't think we encouraged Fabio's resignations. Sometimes during a meeting a feeling emerges among the participants. He came up with the desire to resign."
Bernstein also told the media that Stuart Pearce would be an interim coach during the FA's search for a new manager, claiming the Under-21 boss would take charge of the international friendly against Holland.
"I can announce that Stuart Pearce will manage the England team against Holland." The FA chairman continued. "He has huge experience outside and inside the organisation. He has been working with the under-21 team and has been working with Fabio for some time. I have got great confidence in Stuart, we will be in good hands. Our priority then will be to appoint a new England manager."
During Bernstein's press conference, a statement from Fabio Capello was issued, thanking the players, staff and indeed the FA for their "professionalism", while he reserved special mention for England supporters.
"I would like to thank all players, staff and Football Association for the professionalism they have shown during my years as manager of the English National Team." The statement read accoring to The Times.
"A very special thanks to all the supporters: they've always supported the team and me in our job. I wish all of them every success in achieving all their sporting goals."
Back at the press-conference, Bernstein refused to comment on speculation regarding the clamour to appoint Harry Redknapp, suggesting they would now set about compiling a suitable shortlist.
"I'm not going to get into any discussion on any individuals. We will do this as quickly as we sensibly can. It will be interesting to see who comes to us and we'll be putting together a shortlist."
On Capello's departure, Bernstein continued: "It's regrettable. Fabio has had a great record. We had a very frank meeting with Fabio which was very civilised and at the end he decided he had to go."
Although intimating the decision was Capello's and his alone, Bernstein did admit his comments to an Italian broadcaster on Sunday night regarding the England captaincy "caused conjecture and huge public debate and an unsatisfactory situation".
FA general secretary Alex Horne believes they had little choice but to accept Capello's resignation.
Horne said: "Fabio felt that the best thing to do was resign. We thought the best thing to do was accept that position.
"There was no point having a manager who did not want to be in the job. It was the right decision to accept it [Fabio Capello's resignation]."
Although keen not to discuss possible candidates, Bernstein suggested "popular opinion" would matter even though he suggested Capello's successor would not necessarily be English. The FA's chairman claimed they "wanted the best person".
"The new manager will not definitely be English," he continued "but there is a preference for an English or a British person. At the end we want the best person, but an English person would have a good start."
The Football Association's chairman described the meeting with Capello as "exhaustive" claiming the private conversation was "very open".
Keen to move on from Capello, Bernstein was quick to praise Pearce.
He told The BBC: "I want to commend Stuart Pearce.
"I spoke to him a little earlier and as you'd expect from Stuart his first thought was for his country and managing his country under any conditions at all.
"He just said to me 'If you'd like me to do it - I'd want to do it'. I was really impressed with his attitude."