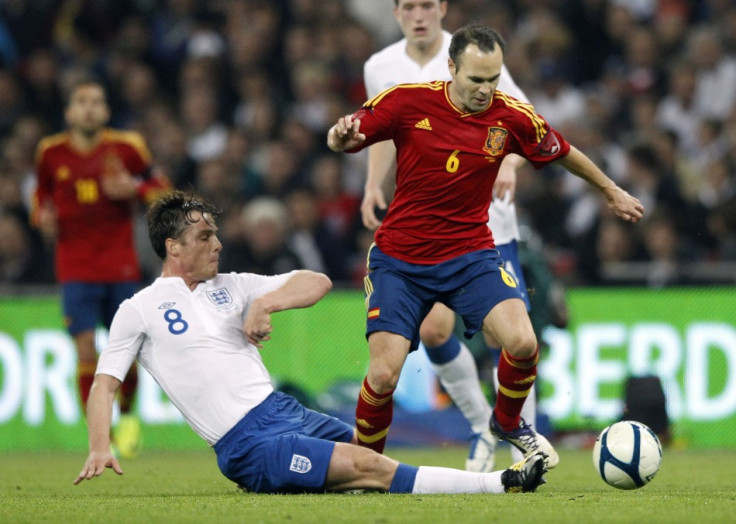 Scott Parker has insisted that Steven Gerrard was completely professional about him being given the captaincy, as the Tottenham star lead England to a hard fought 2-3 loss to the Netherlands last night.
Parker was seen as somewhat of a surprise choice for captain, with Gerrard firmly favourite to be named after John Terry was stripped of the armband after he was charged with racial abuse.
And as debate raged over whether Parker was in fact most deserving of the role, the midfielder revealed that Gerrard was the first to congratulate his teammate on the honour of wearing the England armband.
"Steve was fine. He was the ultra-professional he is," Parker recounted to Sky Sports.
"He was the first person to come up to me and congratulate me and said he'd support me. That was pleasing.
"You wouldn't expect anything else from such a great player."
Parker's captaincy caps off a stunning comeback to international football for the 31 year old, with the star falling out of favour with the side for many years until last November, when his potential was finally realised at Tottenham.
And Parker himself admitted that being named captain of England was something he never expected, with the former Chelsea and West Ham man considering his international career to be over at one point.
"It was pretty special, really, a very proud moment for me and something as a kid I dreamed of many a time," he explained.
"I could probably speak for every boy and every young lad who has the same ambition.
"I never thought it would happen to me, so absolutely delighted to lead out my country."
Parker didn't have to think twice when asked about the possibility of leading England in the 2012 Euros, telling reporters: "Of course I would.
"I also understand there's a many a player - no-one more than Steven Gerrard and a couple of others - who've obviously been there before and done it.
"It's going to be difficult for me but I would obviously relish the chance to lead the country out again and take it into the Euros.
"Whether that's me or it's not me, I know I'll be fully behind whoever it may be, determined to make England succeed."