Scott Parker claims he will be fit and ready for Euro 2012, with the midfielder still in the process of making a comeback from an Achilles injury.
Parker missed the end of the Premier League season but was still chosen to feature for England in June, with incoming manager Roy Hodgson keeping faith in the 31 year old to pull through and comeback strong.
But after playing almost an hour for England against Norway in the side's first pre-Euro friendly over the weekend, he insists he's feeling stronger than ever.
"It was my first game for a while and I'm pleased I've come through it," he told Sky Sports. "It felt good and I felt fine.
"I had trained for the previous three days and it's the first time I trained for a while and it felt okay. I was relieved.
"It probably couldn't have come at a worse time really, the injury, for Tottenham as well, coming at the back end of the season after doing so well.
"Obviously I wanted to be part of that and to miss out left the fear I might miss out on the Euros as well. I am glad things have cleared up a little bit and I am ready to go."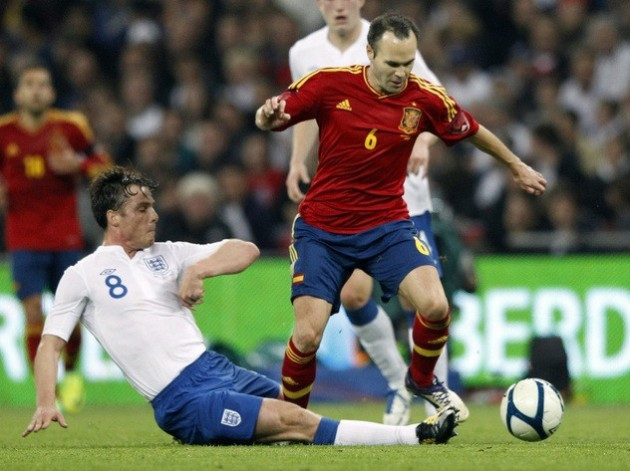 Hodgson has insisted that he will continue with many of Fabio Capello's tactics over the Euros, instilling a very similar team to that which the Italian had chosen over the course of the last season for the tournament.
But Parker has admitted that the side have had to very quickly adapt to his methods, though he is confident the Three Lions will be playing as a tight set-up as they travel to face France in their opening group stage match in the Ukraine.
"It is a different manager with different ideas," he explained. "You have to adapt as players as quick as possible.
"We are all playing at different clubs and have different styles of play and he has set us up and told us how to play and we tried to do it against Norway.
"It is about being tactically aware and disciplined as a team which you have to be at international level. You could see it with their team. They were very disciplined and hard to break down at times.
"It is very clear what the manager wants and he can get that across very, very well. So that is clear.
"We are always a threat on the break and, as always, if you can have a solid foundation to build on you can hurt teams, and we certainly have the individuals to do that.
"I am sure over the next week to 10 days we will take things from this and we will drill a bit more and have a better idea of things."