It is a title that has afflicted the England national team for the past decade. The mere suggestion of a 'golden generation' of footballers brings with it immense pressure, constant scrutiny and in most cases, disappointment. It has certainly provided that in England's case, anyway.
But Beckham, Gerrard, Lampard, Owen, Terry et al are not the only bunch to struggle with the labels hastily stuck upon them by a baying public and press. The curse of the Golden Generation has afflicted a few more sides who have faltered despite being equipped with a seemingly once-in-a-lifetime group of players and disappeared into history without a trophy to their name.
Portugal (2000 - 2004)
The hype surrounding the Portugal team in 2000 was justified to an extent given the swathes of exceptional talent available from a special pool of players. A side featuring Paulo Sousa, Fernando Couto, Nuno Gomes, Rui Costa, Luis Figo and João Pinto had all played and grown together as a team since winning the 1991 FIFA World Youth Championships on a successive occasion, and were largely expected to dominate international competition once they had come of age.
The majority of those names indisputably did that, fulfilling their vast potential and became some of the finest footballers on the continent at club level. But they were unable to find that success for Portugal at Euro 2000, where they lost to eventual winners France in the semi-finals.
By 2004 some of that original bunch had sailed off into the sunset, but Portugal were supplemented by the emerging talents of Deco, Simao and a 19-year-old Cristiano Ronaldo. But a loss to underdogs Greece in a competition they hosted saw a last chance for Portugal's own Golden Generation disappear before them.
Holland (1998)
Perhaps the one nation to have coined the term Golden Generation with more frequency and intensity than England is Holland. The team of the 70's operating under the compelling guise of Total Football would reach World Cup finals in 1974 and 1978, but would have to wait another decade before claiming their sole honour in the European Championships in West Germany.
A team not quite as heralded as those of past generations appeared primed to relaunch a World Cup effort in 1998 with a squad inundated with class. Free from the in-fighting that marred their forgettable Euro 1996 campaign, Gus Hiddink led a Dutch team including a youthful Edwin van der Sar, defensive units Frank de Boer and Jaap Stam, Clarence Seedorf, Edgar Davids, Phillip Cocu and Marc Overmars in midfield with a vibrant attack of Dennis Bergkamp and Patrick Kluivert.
The Dutch stepped out of first gear following the group stages to eliminate Yugoslavia and the much fancied Argentina from the competition, but would fall to Brazil in the semi-finals on a penalty shootout.
Co-hosting Euro 2000 with neighbours Belgium, the Dutch fell at the same stage in the same fashion, this time at the hands of Italy. An injection of youth in the form of Rafael van der Vaart, Wesley Sneijder and Arjen Robben could only guarantee yet another semi-final loss in 2004. By 2006, another transition was complete.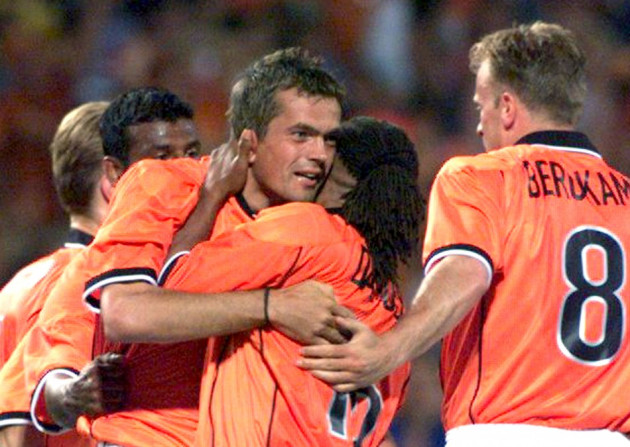 Ivory Coast (2006 - 2013)
When Ivory Coast lost a penalty shootout in the final of the 2006 Africa Cup of Nations, a look around the squad would have suggested it wouldn't be their last visit to this stage of the tournament. A generation build around the talents of Salomon Kalou, Kolo and Yaya Toure, Emmanuel Eboue and Arouna Kone spearheaded by the force of Didier Drogba threatened to dominate the African competition.
But a fourth place finish in 2008 and an unsatisfactory exit at the quarter final stage two years later in Angola was not the path many would have predicted. Another runners-up spot followed in 2012 after defeat to Zambia on penalties and last year - owing to the tournament shifting to odd numbered years with World Cup competition in mind - it was felt it was the last chance for some members of the experienced Ivorian ranks to go all the way.
An exit at the first knock out stage of the 2013 tournament indicated an end of an era may be around the corner, a notion that was then reinforced by the decision of Ivory Coast manager Sabri Lamouchi to drop the Chelsea icon Drogba for subsequent World Cup qualifiers.
Croatia (1998)
Despite still being in the infancy of their existence as a footballing nation, Croatia wasted little time in mounting challenges at international level and at the 1998 World Cup in France only something as rare as a Lilian Thuram brace denied them a spot in the final.
A squad built on the defensive solidarity of Slaven Bilic, Igor Tudor, Robert Jarni and Dario Simic, complemented by the goals of Davor Suker proved to be the basis of a wonderful campaign, emphasised by their influential captain Zvonimir Boban. By the time the following World Cup in South Korea and Japan rolled around four years later, many of those names including the AC Milan stalwart had left the scene.
Although this pool of players was not mercilessly tagged as Croatia's one and only golden generation, they are yet to replicate their thrilling feats of France 98.
England (2001 - 2008)
And we come to England. With former fixtures of the starting XI such as David Beckham, Gary Neville, Michael Owen and Rio Ferdinand already out of the picture, the last remnants of the Golden Generation are on the brink of what will likely be their last major international tournament.
While many players have rightfully avoided using the tag bestowed upon them by fans and the press, Steven Gerrard, Frank Lampard and Ashley Cole come to epitomise the last men standing after an exasperatingly fruitless battle. Quarter final exits at World Cups in 2002 and 2006 followed by the nadir of their shortcomings in failing to qualify for Euro 2008 have been the by-product of the Golden Generation tag.