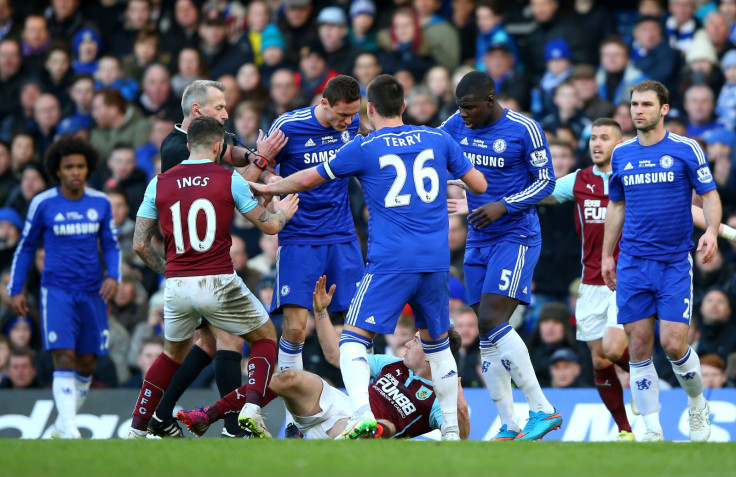 Chelsea manager Jose Mourinho has warned football's authorities that the English game risks losing its glorious reputation should incorrect decisions like the one that saw Ashley Barnes escape punishment and Nemanja Matic suspended continue.
Matic will miss the League Cup final against Tottenham Hotspur at Wembley after being sent off for pushing Barnes to the floor after the Clarets forward committed a challenge on the Serbian midfield that Mourinho claimed could have ended his career.
Barnes's tackle went unpunished but Matic was banned for two games, meaning he will miss the showcase final against Tottenham and the Premier League game against West Ham United.
Even during his days as manager of Inter Milan and Real Madrid, Mourinho was English football's greatest supporter on the continent but the reception to the incident at Stamford Bridge from across the continent means the Football Association could ruin the game's status.
"I know what English football means for every country; the dimension of the Premier League," he told reporters. "What people think of English, what people envy about English football. In this country I don't think everyone realise what English means for other countries.
"It's not about how any millions are watching on TV, it's about the feeling, the credibility, what people think about it.
"If you do it [make big mistakes] week after week, I don't say losing because the respectability English football has took a long time to build and also takes a long time to lose.
"Strong credibility and with my little power I tried always to be very positive and always speaking about missing English football.
"Sometimes people couldn't understand. I coach a big club like Real Madrid, I coach a big club like Inter and he is speaking about English football and the Premier League so it is difficult to lose it. Step by step I think people sometime are normally affected.
"I think we must take care of our football and with all the respect the time I work here I have this feeling that it also belongs to me. [English football] means everything good that football has.
"You lose credibility when Matic is suspended and another player [Barnes] who can play this weekend can play this weekend. All around the world people open their mouth of surprise of how this can be possible."