Ding, a London-based technology startup, has earned over £360,000 in investor funding and customer pre-orders for its internet-connected doorbell.
In development since 2015 and set to go on sale before the end of 2017, Ding looks like a conventional doorbell on the outside - albeit one with a stylish, fabric covered wireless speaker.
But what makes Ding smart is a Wi-Fi connection and a smartphone app. This turns the doorbell into a wireless intercom system which can be used anywhere in the world.
When someone presses the button, a chime sounds from the wireless speaker just like any other doorbell.
But that press also sends a notification to the iPhone app, which can then be used to speak through the doorbell like an intercom. Because it's connected to the internet, you can speak to the person at the door from anywhere, where you are home or not.
Far from packing the product full of gimmicks, Ding hopes to carve out a 'smart enough' sector of the market, sitting between regular 'dumb' doorbells bought from the local hardware store, and technology-focused smart doorbells which feature a camera, live video link and more features than most users will ever use.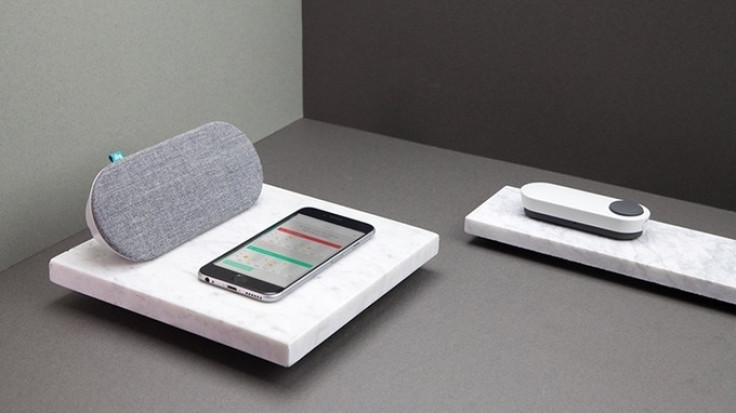 The company suggests how Airbnb hosts could use the system to help check customers in remotely.
The emphasis is also on a simple, minimalist design where the speaker is unobtrusive and the button is weatherproof and secured against being stolen or hacked into. On that note, Ding cannot be paired with a smart lock to remotely open and close the door - but then this deliberate omission takes away the fear of your door being oped by a hacker.
At the time of writing, Ding had raised over £265,000 of its £250,000 target through the Seedrs seed-funding site, plus £95,000 from campaigns on Kickstarter and Indiegogo.
The retail price will, Ding says, be in the region of £140 to £150 when it goes on sale in time for Christmas.