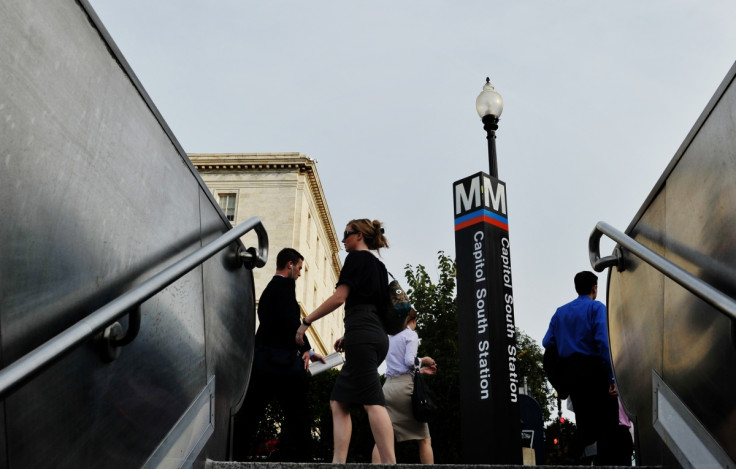 Washington DC's entire metro system will be shut down for a minimum of 29 hours to carry out safety checks on electric cables. The decision to close the entire network from midnight tonight (4.00am GMT) for maintenance for the first time was taken after an electrical fire broke out on 14 March, causing major delays on three lines.
Around 600 jumper cables need to be inspected, general manager Paul Wiedefeld said at a news conference on 15 March, and commuters may face further closures. "At the conclusion of the inspection process, there may be a need for additional rail service outages," said Wiedefeld.
The Washington Metropolitan Area Transit Authority (WMATA) tweeted: "Parking will be free on Wednesday, 3/16 in all Metro owned lots and garages for customers taking bus or carpooling."
Preliminary findings from yesterday's fire indicate similarities to a cable fire which broke out near L'Enfant Plaza station last year. One person died and more than 80 others were hurt when smoke filled a metro car during the rush hour commute, raising concerns about the capital's ageing transport system.
"While the risk to the public is very low, I cannot rule out a potential life safety issue here, and that is why we must take this action immediately," Wiedefeld said. "When I say safety is our highest priority, I mean it. That sometimes means making tough, unpopular decisions, and this is one of those times. I fully recognise the hardship this will cause."
The network serves 91 stations and transports about 710,000 passengers daily. It has previously been shut due to weather conditions, but this is the first time that it faces closure due to maintenance.
Congressman Gerry Connolly said the shutdown is "a gut punch to the hundreds of thousands of commuters who depend on the system." He called on the Office of Personnel Management (OPM) to allow federal employees to work remotely. "This decision, while perhaps necessary, will cause significant inconvenience and will disrupt the functioning of the federal government in our nation's capital," he added.