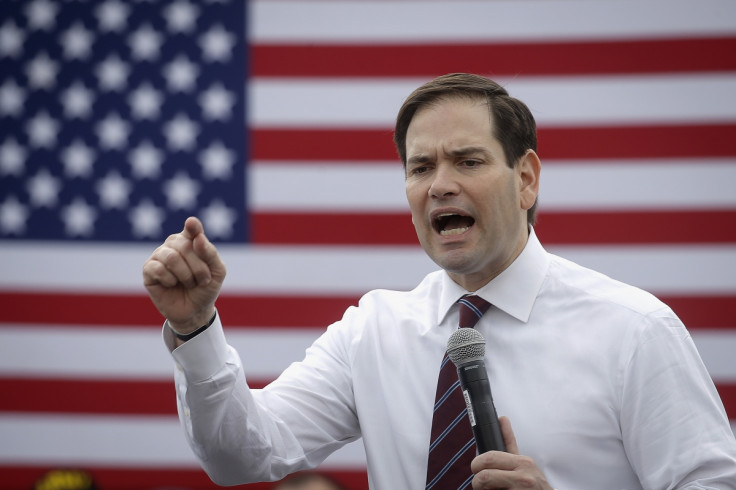 Republicans Marco Rubio and Ted Cruz were the big winners on the 12 March primaries in Washington DC and Wyoming, with John Kasich also coming up ahead. Rubio took Washington DC with 37.3% of the vote, while Cruz nabbed Wyoming with a whopping 66.3%. Republicans and Democrats are just two days ahead of the all-important Mega Tuesday primaries on 15 March.
Washington DC primary
The GOP turnout of just several thousand voters in Washington DC was so small that balloting was limited to a downtown hotel, Fox News reported. The win was Rubio's third presidential contest victory, after the Florida senator won the Minnesota caucus and the Puerto Rico primary earlier this month.
Rubio split the 19 delegates up for grabs with Kasich, who came in second place with 35.5%. The Florida senator took 10 delegates, while the Ohio governor grabbed nine. The party's frontrunner Donald Trump came in a distant third, with 13.8%, while Texas Senator Ted Cruz came in dead last, with 12.4%. Neither Trump nor Cruz took home any delegates from Washington DC.
Wyoming caucus
Wyoming Republicans caucused on 12 March to choose the state's first 12 delegates and will select the remaining 14 delegates at their state convention in mid-April. Cruz, the only active Republican candidate to campaign in Cowboy State, took home the lion's share of the delegates on 12 March.
The Texas senator grabbed nine delegates with 66.3% of the vote. Rubio (19.5%) and Trump (7.2%) each took home one delegate. Katich earned a disappointing 0% of the vote, taking home zero delegates. According to Fox News, one delegate remained uncommitted. The Associated Press has not declared a winner in Wyoming because the state's remaining delegate will not be awarded until the state convention on 16 April.
The remaining four GOP candidates are gearing up for an important Mega Tuesday primaries on 15 March. Kasich's home state of Ohio, Rubio's home state of Florida, as well as Missouri, North Carolina and Illinois will hold primaries that day.