President Recep Tayyip Erdoğan warned Turkey will open up its border for refugees to head to Europe "if the EU goes further", referring to the European Parliament's vote for a suspension of accession talks.
According to reports, Erdogan accused the EU of not keeping to its side of a controversial deal between the bloc and Ankara in which Turkey prevents refugees from reaching Europe's shores in exchange for visa-free travel and the revival of protracted membership talks. UN agencies estimated that by the end of 2015, Turkey was hosting around 2.5 million refugees.
"You never treated humanity honestly and you did not look after people fairly. You did not pick up babies when they washed ashore on the Mediterranean. We are the ones who are feeding around 3.5 million refugees in this country," he stated, adding: "If you go further, those border gates will be opened. You should know that."
The European Parliament voted 479 to 37 in favour of a non-binding resolution condemning Ankara's "disproportionate repressive measures" taken in the aftermath of the failed July military coup. The resolution also urged the European Commission and EU member states to freeze negotiations on 24 November. It is meant as a symbolic gesture since, as Reuters reported, neither side expects Turkey to be in a position to join the EU for very many years to come.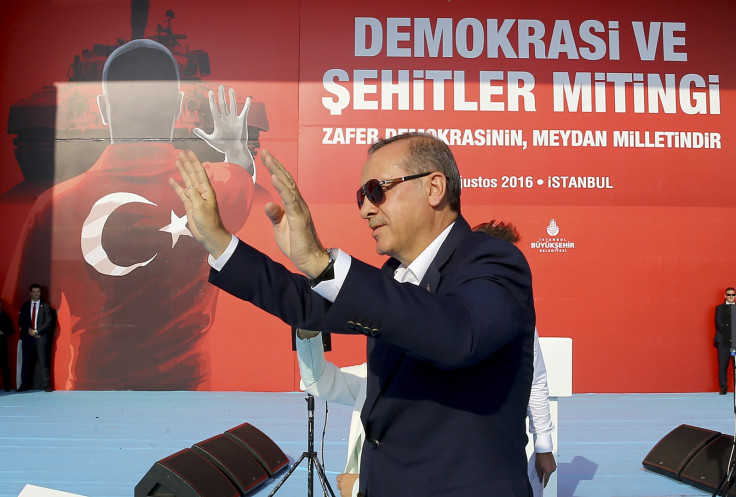 Since the coup, more than 110,000 people in the military, civil service, judiciary, including journalists and academics, have been suspended, sacked or arrested and awaiting trial.
To punish coup plotters, Erdogan has vowed to reintroduce the death penalty in the country, which was abolished in 2004 as one of the requirements for EU membership. The president of the European Parliament Martin Schulz warned the actions would jeopardise accession talks, but Erdogan rebuffed Schulz did not have the authority to make such a decision.
Turkey first applied to join the EU in 1987. It took 10 years for the country to be considered an eligible candidate, and another eight to open formal talks in 2005. The negotiations involve 35 areas, or chapters, only one of which has been completed and closed in the past 11 years.