Assange claims 'crazed' US forces tried to hack WikiLeaks and brand him a paedophile
"They started attacking our servers with DDoS and attempted hacking attacks."
Julian Assange, founder of whistleblowing platform WikiLeaks, has spoken out about alleged attacks on his organisation at the hands of the US government, claiming that his website suffered a series of cyberattacks amid the publication of emails linked to presidential candidate Hillary Clinton.
Speaking via telephone at the CISL2016 technology conference on 26 October, Assange referenced a mysterious plot orchestrated by unknown forces that he claims was designed to label him not only an agent of the Russian government but also a paedophile.
The ongoing WikiLeaks disclosures, the personal emails of close Clinton aide John Podesta, "whipped up a crazed hornets' nest atmosphere in the Hillary Clinton campaign and in all the establishments that are backing her," Assange said.
He continued: "In response [to the leaks] there were many attacks and the US DC establishment – which believes that Hillary Clinton will be the winner of the election – tried to find different ways to distract from our publications. They first tried to say that we supported Donald Trump [...] then they tried to say we were secretly working with Russia."
Yet Assange said the attacks went beyond hostile briefings, adding: "They started attacking our servers with DDoS attacks and attempted hacking attacks, and there is an amazing ongoing campaign where fake documents were put in the UN and in the British courts to accuse me of being both a Russian spy and a paedophile – a molester of children."
The company that made this "United Nations" filing is called Todd and Clare – a business purporting to be a small dating website owned by a US firm known as T&C Network Solutions. In a report dated 4 October, Assange was accused of "internet grooming of an 8-year-old girl in Nassau, Bahamas".
The paper claimed the incident was brought forward "by the family of a ToddandClare.com female user" and detailed "indecent images and video media of himself performing lewd acts on a mobile camera device, and unlawful obscenity materials of a child pornographic nature". On the same day, as WikiLeaks celebrated its 10th anniversary, a complaint was filed to the UK court system.
Yet problems with the claims quickly emerged. The UN department to which the papers were filed – the United Nations Global Compact (UNGC) – is a voluntary body with over 12,000 members that allows its members to submit reports without a vetting process.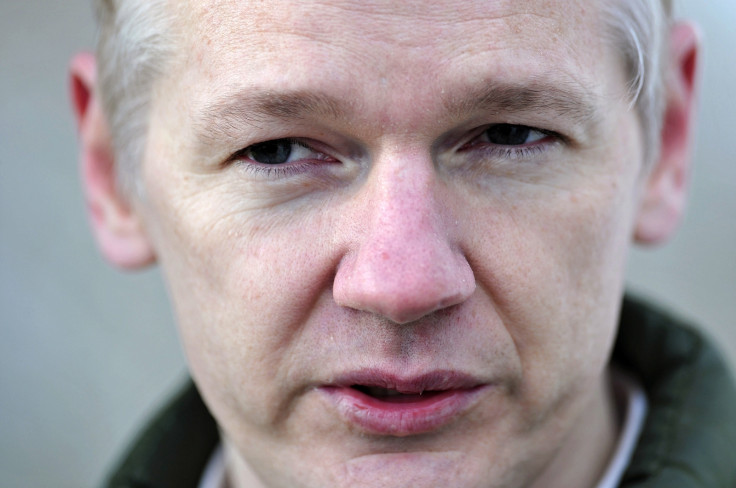 Additionally, the Royal Bahamas Police Force (RBPF) said no complaint into child molestation claims featuring Assange was ever reported, never mind openly investigated. The filing of the report eventually got T&C Network Solutions delisted from the UN group – a move it branded "Kafkaesque and un-American".
Million-dollar entrapment scam
In a separate plot, Todd and Clare allegedly exchanged emails with Assange about potentially appearing in a Russian government-funded advertisement for which he would be paid $1m (£820,000). Later, a WikiLeaks representative rubbished the deal as an "elaborate scam designed to entrap Mr Assange's reputation into unwanted and unwarranted publicity".
WikiLeaks (and an eager Reddit community) then launched its own investigation into the small dating website at the centre of the alleged scheme. In a report posted online on 18 October, WikiLeaks said: "It is our conclusion that T&C Network Solutions exhibits the characteristics of a highly suspicious and likely fabricated business entity."
Julian Assange currently resides in London under political asylum
Oli Scarff/Getty Images
At the time of writing, the Todd and Clare website is offline. A statement reads: "We will not be silenced by a traitor like Julian Assange, who has cost American lives [...] we are not surprised by the weak and flawed United Nations attempting to smear us on their site, we have done nothing wrong and will continue to protect the blameless Canadian family involved in this."
In his CISL2016 conference speech, Assange called Todd and Clare "a front company in the United States" and indicated it was part of a scheme to put pressure on his organisation. When that failed, he said, the pressure was put on the government of Ecuador. As previously reported, Ecuador, which is hosting Assange under political asylum, shuttered internet access in its embassy to avoid being accused of interfering in the US elections.
"While I disagree that they didn't give me any notice about what was occurring – I did not like how it was done – I am very sympathetic as to the concern the Ecuadorian state had," Assange said. He blamed "John Kerry, some other officials and the Hillary Clinton campaign" for the internet blackout.
"You basically have the Obama administration taking control of parts of the government and using it to try and shut down critical and true information from being revealed and analysed by WikiLeaks and being read by the American population," he said. "There cannot be a free and informed election unless people are free to inform."
As the election date fast approaches the WikiLeaks disclosures show no sign of slowing and Assange has promised a constant stream of leaks until the fateful 8 November election day. Both WikiLeaks and the Russian government – despite the US intelligence community claiming otherwise – have denied attempting to skew the election result by leaking data.
"You could ask what type of dog a company or organisation is and WikiLeaks is one of the fighting dogs that has a lot of energy and runs around fighting all the time," Assange told the conference. "It is built to fight and loves nothing more than to fight.
"And so, when my internet was cut off, despite bombs raining down on us from media and so on, this is exactly the sort of situation we enjoy and so there was not even a one-day pause, we just continued on publishing the next day even though I was cut off from my team."
© Copyright IBTimes 2023. All rights reserved.