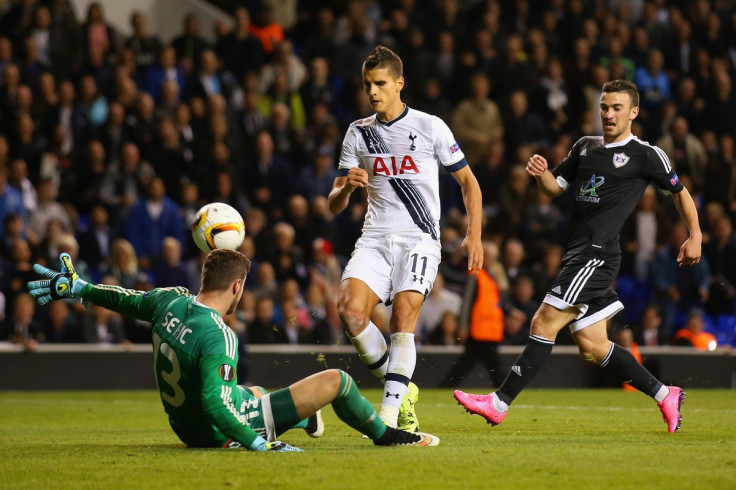 Tottenham star Erik Lamela has claimed he has "always wanted to stay" at White Hart Lane despite his father revealing during the summer transfer window his negotiations with Inter Milan regarding a return to the Serie A. The Argentine international says he is very happy in North London and looking "to score more goals" after having already netted three in 10 appearances this season.
Lamela moved to White Hart Lane in the summer of 2013 from Roma for a club record fee of around £26m ($40m) as part of the mass overhaul that followed Gareth Bale's departure to Real Madrid. But having failed to make the impact expected during his two first campaigns in the Premier League, reports in the summer claimed that Mauricio Pochettino was ready to get rid of him as he did with the likes of Roberto Soldado, Paulinho or Etiene Capoue.
Marseille were reportedly interested in bringing him to the Ligue 1 while Lamela's agent and father sparked speculation after revealing conversation with Inter Milan to return to the Serie A, where he netted 15 goals in the 2012-2013 campaign.
"I can confirm that we are in talks with the Nerazzurri. Their interest in Erik is real. We are waiting for updates over these next few days. There is a willingness on our part to begin talks with the club," his father then told La Gazzetta dello Sport.
"Italian football is likely more suited to him and his characteristics. He settled well in Italy and had two great seasons with Roma. It would be a welcome option for us. He would like to return to Serie A. We will see what happens in these final days of the transfer window."
But Lamela has now claimed that he never considered leaving White Hart Lane as he is already settle in London and feels at home. "Ever since I got here, people have spoken about me leaving," Lamela told Standard Sport. "They said it the first year, the second year and now in the third. But I didn't speak because there was nothing to say.
"My mind has always been here at Tottenham. Would I have moved to Marseille, Inter, back to Roma? No — I have always wanted to stay here and I have always made that clear. It's something I've said to my teammates, to the club, to everyone. I feel good here, I like it. I am very happy. I feel I've adapted and my teammates make me feel at home."
The Argentine is now ready to put those rumours behind him to help Spurs to get the qualification for the Champions League. He has become a regular for Pochettino since the transfer window closed, scoring in the Europa League matches against Qarabag and Monaco while putting on arguably his best performance in the Premier League during the 4-1 win over City, netting one goal and providing another.
"We are looking for a place in the top four," he said. "Sometimes we show that we are a strong team, but now [after three draws] we need to start winning again. I'm looking to score more goals. I feel able to play anywhere the manager requires and to do the work that he asks of me."