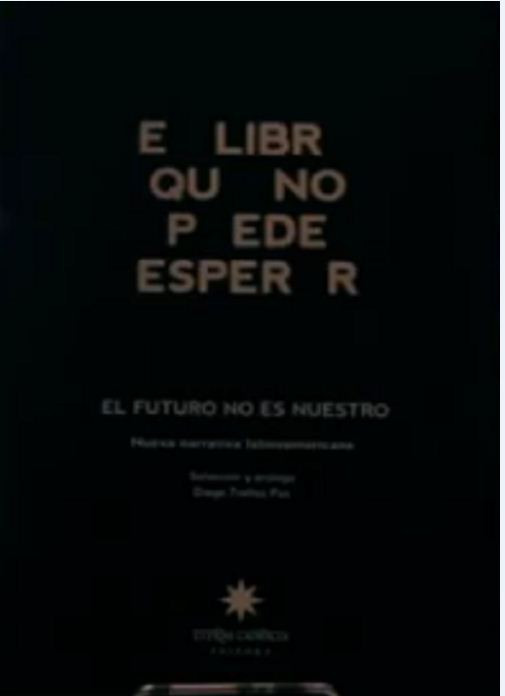 Books are often described as valued companions... one that cannot and will not betray your confidence. Well, this book is a little different!
An independent Argentinean publisher, Eterna Cadencia, has relased a book titled El Libro que No Puede Esperar (The Book That Can't Wait) - a collection of stories by new Latin American writers. While that is not in itself any great news, the unique aspect of this book is that the ink, the words and the letters will slowly fade away into nothing, once it is exposed to the environment.
The book comes sealed in a plastic wrapper. Once that wrapper is removed and the book opened, the ink begins to disappear. By the end of the sixtieth day, the publishers sat, the book will have nothing but blank pages.
Are you wondering why someone would create something like this?
It seems the main motive behind this stunt was to generate interest for real books, rather than the digital copies so popular today, and also to encourage people to read more quickly. In addition, it provides new and emerging authors a wonderful new platform for publicity.
"Books are very patient objects. We buy them, and then they wait for us to read them. Days, months, even years. That's OK for books, but not for new authors. If people don't read their first books. They'll never make it to a second," the publishers said, in a video they released, explaining their approach. The publishers plan to use the disappearing ink technology for other books in the future too.
This innovative concept has already received great feedback. Ad agency Draftcb, who promoted the idea, won Gold at the Cannes PR Lions for highlighting this unique publishing concept. Reports say the first edition was sold out the very first day of the launch, only to be followed by thousands of requests.
"Physical books are not the only ones that are in danger these days. New Latin American authors are threatened as well. In the last 20 years the book sales from new Latin-American writers have decreased by a total of 37%. These new authors, unlike the established and famous ones, suffer every second that their books are left on a shelf. They not only need to be sold, but also need to be read. Word of mouth is crucial to building a writer's career, so they can make it it to a second book," a note on the Cannes PR Web site said.
Check out The Book That Can't Wait
Video Courtesy: Eterna Cadencia