Ethics groups question $100m cost of President Trump's inauguration
The costs of the 2017 inauguration are the highest in history.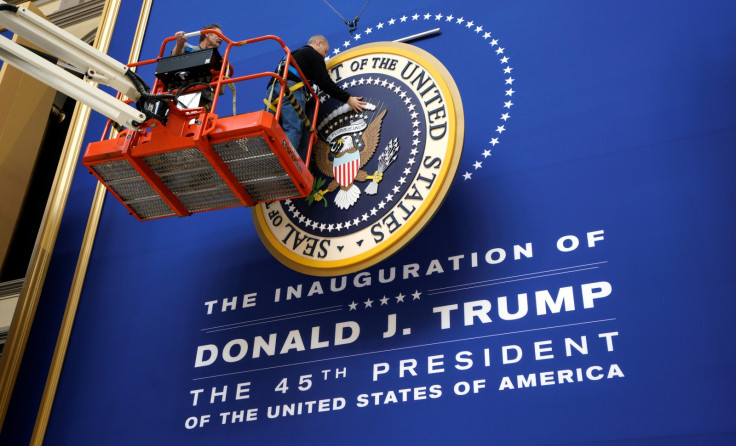 An ethics group that lobbies against money in politics is questioning why the cost of Donald Trump's $100m inauguration is double the amount spent by past presidents.
"Trump's inauguration will be a record-breaking spectacle. He is planning on spending $100m for his party to enter the White House," said Craig Holman, a lobbying and ethics expert at the watchdog group Public Citizen, adding it's "almost double the previous record set by Obama in 2009". Trump, however, has fewer events and a shorter parade than past presidents.
Donations have reportedly included $500,000 from oil corporation Chevron, $1m from Boeing, and cash and in-kind donations from AT&T — with the telecoms company said to be "quintupling" phone coverage on the National Mall.
In order to reach such a high fund-raising goal, "Trump is imposing very few restrictions on the sources and amounts of donations", said Holman. "His inaugural committee is offering packages to entice large donors; the more one gives, the better access to Trump and congressional leaders."
A brochure of inaugural events obtained by the Center for Public Integrity in November 2016 showed that anyone donating $1m or more to the inauguration will get a candlelight dinner and access to the President and other events that feature exclusive access to "select Cabinet appointees and House and Senate leadership".
During his first inauguration President Barack Obama limited donations to $50,000. In 2001 George W Bush capped his donations at $100,000 and at $250,000 in 2005, according to figures compiled by Public Citizen. The non-profit pushes for limits to money in politics in Washington.
In 2009 Obama collected a total of $35.3m – 80% of which came from just 211 people, including many Wall Street figures such as a senior executive at Lehman Brothers, the CEO of UBS Americas, and the vice chairman of investment banking at Citigroup. In 2013 he raised $43.8m and allowed corporations to donate $1m . Compare all this to 1997 when President Bill Clinton capped contributions at $100 and the committee raised a total of $23.7m.
"I can't imagine how they are going to spend that amount of money — and why they would even keep raising money," said Steve Kerrigan, CEO for Obama's inaugural committee in 2013, in an interview with Fox News. "We planned the two largest inaugurations in the history of our country and we never spent anywhere near that." Traditionally any excess money from inaugurations is donated to charity.
The Presidential Inaugural Committee and President Trump's transition team did not respond for requests for comment from IBTimes UK about what the inauguration funds were going to or whether they would be donated to charity.
Despite its impressive cost, unlike past inaugurations Trump's will be more subdued with only three "low-key" gala balls, according to Reuters, as opposed to the 10 held for Obama's first inauguration. There will be fewer stars and fewer people attending than the 1.8 million people that turned out for the historic election of President Barack Obama. Some 900,000 are expected at Trump's inauguration.
"In looking at the history of inaugural fundraising, the money mostly comes from corporate sources — corporate treasuries and corporate senior managers — and in very large donations," said Holman, adding "almost no inaugural donations come in small amounts under $200."
There are no access packages for small donors, Holman said. "That means for nearly all of America who cannot afford a Trump package, we will be on the outside looking in during the Trump Inauguration."
© Copyright IBTimes 2023. All rights reserved.