At least 10.2 million people are facing starvation in Ethiopia, which has been hit by one of the worst droughts in the past 50 years. Prime Minister Hailemariam Deselagn said $1.4bn (£968m, €1.2bn) is needed to deal with the crisis, exacerbated by the El Nino phenomenon, caused by warm water in the Pacific Ocean.
Millions of people in Ethiopia are farmers and depend on staple foods such as maize, sorghum and Teff – a grain found in Ethiopia and Eritrea – for their survival. However, prolonged lack of rainfall have made this year's harvest impossible for millions of households.
Large-scale droughts and famines hit Ethiopia in 1960s. From 1983 till 1985, between 400,000 and 1 million people died due to a drought coupled with a famine exacerbated by unrest and human rights abuses, including confiscation of lands that undermined farmers' survival. Millions were also internally displaced while the government drew widespread criticism for refusing to distribute food aids in rebel-held areas.
However, an Ethiopian official explained to IBTimes UK that, unlike in the 1980s, the country is now stable, has progressed economically and agriculturally and is working to make sure people will not die of starvation.
"Even though we are facing a much more severe drought and the population today has nearly doubled, we are not seeing any of what happened 30 years ago," Abiy Berhane, minister counsellor at the Ethiopian embassy in London, said.
"When the El Nino phenomenon set in, the government tried its best to cope on its own by tapping into its food reserves and buying grains in the international market. The government has so far spent 8 billion birr ($375m; £260m) of its own money to cope with the problem. However the severity of the drought made it necessary to appeal for international assistance."
Berhane explained that so far, Ethiopia has received only 50% of the money needed. "The response for the international appeal has so far fallen short of the expectation and it is leaving the people in the landlocked nation starving," he said.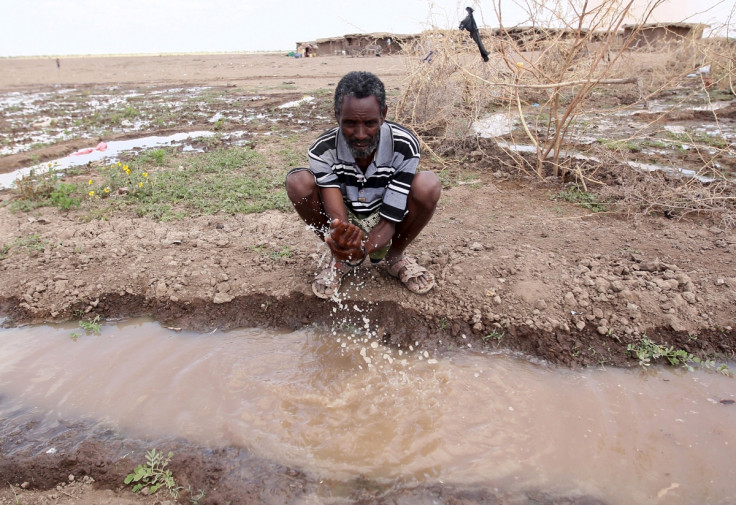 Tourism, industrial sector and irrigation schemes can help
In addition to a response activity to meet people's short-term needs, the government is also implementing long-term projects to cope with the current and future droughts. One of the long-term plans sees the introduction of irrigation schemes so that farmers will be taught how to stop relying exclusively on rainfalls for their subsistence.
"That has already begun, but it has to be done on a large scale so that in the future, whatever drought phenomenon sets in, the agricultural sector will not be affected and farmers will be able to produce even in times of rain failures like this one," Berhane said.
He added the tourism sector could also generate a source of income that the country could use to tackle the negative effects of the drought. He said the number of tourists who visit the country annually is growing exponentially and promoting touristic activities is one of the governemet's priorities.
"Twenty-five years ago, when the military government was in place, the number of tourists who were visiting the country was counted only a few thousand. Last year, we had about 800,000 tourists which is the result of the tourism sector growing by an average of 10% annually," Berhane said.
"The plan is to increase tourist arrivals to 2.5 million during the next five tears. Tourism is a very promising sector in Ethiopia, which is endowed with many attractive aspects of tourism such as history, wildlife, spectacular sceneries, good weather, secure and friendly people. The government has been building roads, airports and the private sector is building hotel infrastructures."
Agriculture makes up 41% of the country's gross domestic product (GDP) and the country relies on exports of agricultural commodities. Although climate change has negatively affected the country's exports, Berhane said this will be compensated by an increase in the industrial sector.
"The country has been building industrial parks and inviting investors to come and use them to produce industrial goods. Chinese, Turkish, Indian and other investors are coming because they believe Ethiopia has a big and cheaper labour force and they will be more competitive in the international markets. Because of that, we are going to see an increase in the industrial sector," he said.