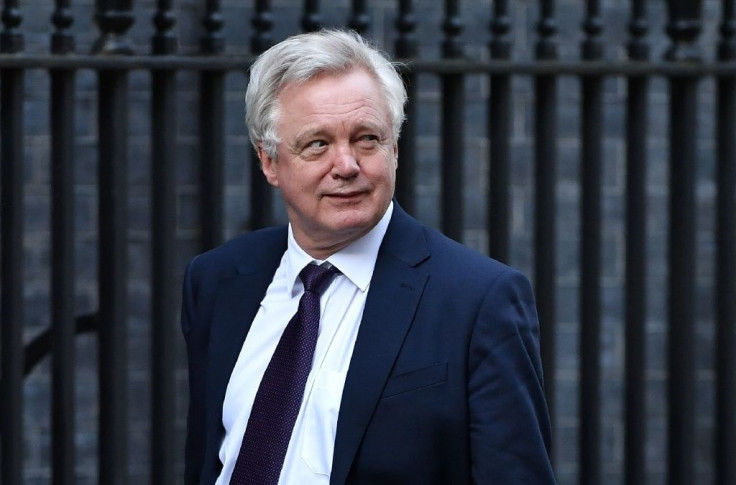 European Union negotiators are "frightened" by the prospect of Britain paying a lower divorce bill and want to run down the clock on Brexit talks to force a decision, according to David Davis.
The EU wants to agree a reported £100bn (€92bn) settlement from Britain before the talks can move on to issues like immigration and trade.
The latest round of discussions between Davis and the EU's chief negotiator Michel Barnier failed to make progress on the divorce bill prompting a tense press conference between the pair on Thursday (31 August) in which Barnier said there had been a lack of "decisive progress on any of the principal subjects".
The impasse led to criticism that the UK was weakening its hand with an obstinate approach but speaking on the Andrew Marr show, Davis said the EU Commission was using time to put pressure on a settlement and was fearful of not getting as much money as it wants.
"What he's [Barnier] concerned about of course is he's not getting the answer on money and they've set this up to try to create pressure on us on money," Davis said. "That's what this is about. They're trying to play time against money."
Talks had been protracted, he said, because of the meticulous detail involved. "We are basically going through this systematically in a very British way, a very pragmatic way of doing it, and of course he wants to put pressure on us, which is why the stance this week in the press conference.
"Time is not running out. There is a two year negotiating period, they are trying to use time against us. I said this is going to be turbulent.
"Every time we come to something serious there will be a pressure exercise of this sort. Money is incredibly important to them, it's the thing that frightens them the most, the money issue."
Optimistic noises
Reports on Sunday claimed Theresa May was resigned to paying £50bn for a divorce settlement as she sought to draw a line under the argument and start. However, Davis shot down the story as "nonsense" and "completely wrong".
"We meet international obligations - also want to leave in orderly and smooth manner and in order to do that it's best to leave on amicable terms, on proper terms on negotiated terms and don't just walk away," he added. "There are issues if you just walk away, it can be done but there are issues involved in it."
Discussing the power European capitals wielded over talks, Davis said it was the case that Berlin and Paris clearly influenced the Commission's stance but that the French had been more receptive than he expected.
"One of the groups I was cautious of where they were going was the French. I think the French are actually looking at this - with a brand new government still getting itself bedded in - with a very constructive viewpoint.
"We are seeing lots of optimistic noises coming back across but you have to respect the process, deal with the Commission and then of course put it in such a way that the Council comes back and says it's worth doing."
Party conference season
Parliament begins the second reading of the Great Repeal Bill [EU Withdrawl Bill] on Thursday after MPs return from their summer recess that will copy EU most laws into British legislation, while repealing the act that took Britain into the EU in 1973.
But Labour is to launch an all-out assault on what it calls the government's "undemocratic" and "unacceptable" plans to legislate for Brexit, setting the scene for months of parliamentary warfare.
However, Davis said: "We made plain, this bill is here in order to enable continuity. If you want a 'soft' Brexit - and I don't actually deal with 'soft' and 'hard' Brexit, I want a effective successful and Brexit - but if you want something like continuity this is the bill you should be supporting. It takes the laws that are there now and puts them in place the day after we leave."
There are two more rounds of talks before the Conservative party conference in October where the prime minister will look to reassert her authority after a bruising summer that saw Davis emerge as favourite to replace her.
However, he told Marr: "She's a great Prime Minster, I think. I've served her the last 12 months, I have been never anything less than impressed in the way she runs the country. That's what matters to the people, not the politics, running the country. She does a good job."