EU migrant crisis: Donald Tusk tells Merkel to get tough and help secure EU's external borders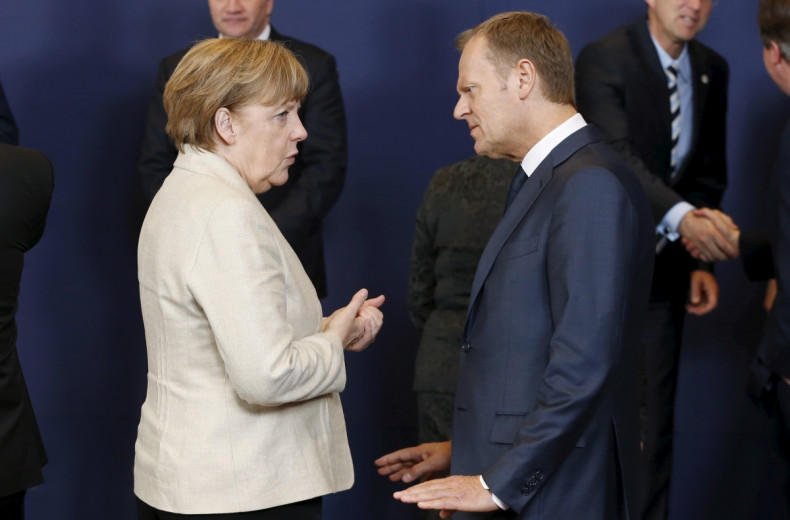 The European Council President Donald Tusk has warned German Chancellor Angela Merkel that she needs to do more to help Europe secure its external borders. "Leadership responsibility also means securing Europe's external borders together with other member states," he told the Die Welt am Sonntag newspaper.
He was speaking ahead of a meeting with Merkel on Sunday (8 November). While praising Merkel for being the most liberal and tolerant in European history in the handling of the migrant crisis, he said that Berlin needed to do more to get the current situation under control.
"I understand why due to historical reasons, Germany may have difficulty setting up a strict regime on its borders. But for Germany, European leadership responsibility also means controlling Europe's external borders if necessary energetically in a pan-European unit," he said.
Both Tusk and Merkel have clearly taken on differing lines on the handling of the migrant crisis. While Merkel has been strongly pushing for member states to show solidarity and share responsibilities for refugees by resettling more of them, Tusk has been stressing the need to tighten Europe's borders.
The European president, a former prime minister of Poland, has previously told off member states, describing their arguments on how to accommodate refugees as naive as long as the bloc fails to step them making it through the borders.
Tusk has called for an emergency EU leaders meeting on refugees on Thursday (12 November), after the scheduled EU-Africa summit in Malta on Wednesday. He had dinner with Merkel on Sunday in Berlin.
The wave of migrants flowing into Europe has been described as the biggest since the Second World War. Merkel has come under criticism not only by other EU head of states but also by her own political allies for taking in Syrian refugees and not pushing for improved border controls.
Commentators have noted German's reluctance over new border checks will only serve to bring up memories of the Berlin Wall and the Cold War era when Germany was separated as East Germany and West Germany.
Last week, the European Commission had forecast that a further 2 million migrants are expected to knock at the EU borders by the end of 2017, in addition to the 1 million expected in the EU this year. Merkel has been losing support at home, with Germany's right wing Alternative for Germany party seeing its popularity rising to 9% in a opinion poll released on Sunday (8 November).
Not surprisingly, Merkel, who has opened the doors to up to one million migrants, has seen her approval rating fall to the lowest in four years. An anti-refugee rally in Berlin a few days ago saw thousands of protesters waving German flags and anti-Islamic banners.