The EU and Nato have joined Angela Merkel in criticising Turkish President Erdogan for accusing politicians in The Netherlands of acting like the Nazis.
After the Dutch government barred Turkish ministers from entering the country to campaign in the run-up to the constitutional referendum in April, Erdogan commented that "Nazism is still widespread in the West", compared The Netherlands a "banana republic", and called on international organisations to impose sanctions on the country.
EU and Nato chiefs have called on the Turkish President to avoid inflammatory rhetoric and warned him to not escalate the row further.
EU foreign policy chief Federica Mogherini and the union's enlargement commissioner Johannes Hahn warned Turkey to "refrain from excessive statements and actions that risk further exacerbating the situation."
"It is essential to avoid further escalation and find ways to calm down the situation," their statement added.
Nato chief Jens Stoltenberg urged Turkey to "show mutual respect, to be calm and have a measured approach to contribute to de-escalate the tensions."
Dutch Prime Minister Mark Rutte said the comparison between The Netherlands and Nazi Germany was "unspeakable" and called on Erdogan to apologise for his comments at a press conference on Monday afternoon (13 March).
When asked whether he took such a hard line towards Turkey this weekend in an attempt to portray himself as a tough leader before the election on Wednesday (15 March), Rutte responded that his cabinet "did not ask for this situation." The Prime Minister faces fierce opposition from far-right leader Geert Wilders, who is hoping the row with Turkey will boost support for his anti-immigration Freedom Party (PVV). The issue is expected to dominate the election debate tonight when the two politicians will go head-to-head for the first time this campaign.
Rutte added that he was "very happy" with German Chancellor Angela Merkel's rejection of Erdogan's comments and her offer of "full support and solidarity" with The Netherlands.
Merkel told reporters at a press conference on Monday (13 March) that Erdogan's comments were "completely misguided... particularly in the Netherlands that endured so much agony through the National Socialists."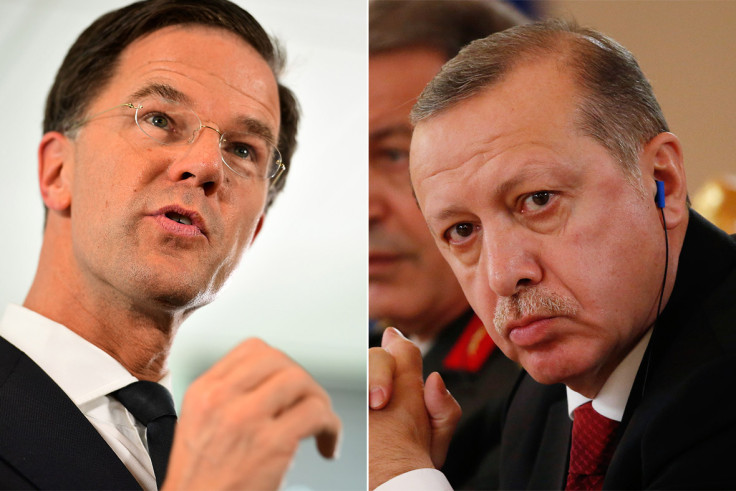 Dutch Deputy Prime Minister Lodewijk Asscher had responded earlier that it was "disgusting to be called Nazis by a regime which is walking backwards in regards to human rights."
The Dutch foreign ministry updated its travel advice on 12 March, warning its citizens against travelling to Turkey and to avoid demonstrations as the row between the two countries escalated.