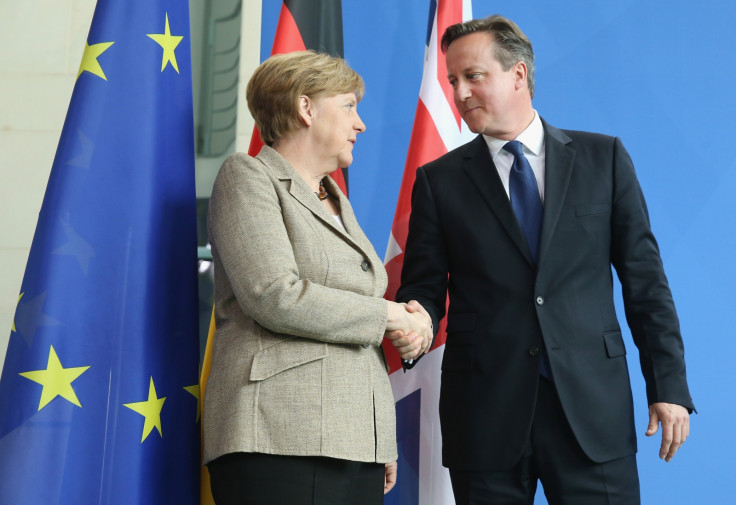 David Cameron has met with German chancellor Angela Merkel to "get down to business" and discuss Britain's membership with the European Union (EU).
The prime minister continued his tour of European capitals to put forward his case for EU reforms with a face-to face meeting with Merkel in Berlin.
Cameron told reporters he believes the EU is "better off" with UK as a member and hoped the two countries could agree terms before Cameron secures a settlement ahead of the Britain's in/out referendum by the end of 2017.
The prime minister appeared to have been thrown a lifeline by Merkel, who said Cameron's plans for treaty change would not be "impossible but is going to be difficult".
The meeting with Merkel followed on from less than successful talks with Poland's prime minster Ewa Kopacz in Warsaw, in which she "strongly opposed" one of Cameron's key plans to cut welfare to EU migrants in Britain.
Speaking at a press conference, Merkel said: "Of course we have the desire to work very closely together. We would like to be a part of the process that is going on in Great Britain at the moment and we would like to be a constructive partner in this process.
"We shouldn't be saying that changing the treaties [is] totally impossible, but is going to be difficult. I have also said wherever there is a desire there's also a way and this should be our guiding principle here as well."
Cameron agreed that there is "no magical" solution to solve the issues, but was "heartened" by Merkel's assessment that "where there is a will there is a way".
He added: "If content requires changes in treaties then you can't let that stand in the way of what needs to be done."
The backing from Merkel has gone against the opinions from her own chambers. Volker Treier, deputy chief executive of Germany's Chambers of Commerce and Industry, said he is "astonished" a British referendum is taking place at all and believes the chancellor should not be bargaining with Cameron.
"Our recommendation is not to deal under such circumstances," he told the BBC. Treier said a British exit from the EU would be a "disaster" for the two countries, with German companies employing an estimated 400,000 UK workers.
Elsewhere, Cameron said he believes Fifa president Sepp Blatter "should go" in the wake of the organisation's corruption scandal.
He said: "You cannot have accusations of corruption at this level and on this scale in this organisation and pretend that the person currently leading it is the right person to take it forward. That cannot be the case. Frankly what we have seen is the ugly side of the beautiful game and he should go.
"And the sooner that happens the better and the faster that organisation can start to rebuild its credibility, which is so important because so many people around the world want to see this game properly managed, properly looked after, so we can all enjoy the World Cups of the future."
Cameron had earlier met with Poland's Kopacz as part of his European tour, with cutting welfare demands to EU migrants in Britain forming the key part of the discussion.
Cameron failed to get Poland to agree with the "discriminatory" terms, which would affect around 800,000 Polish migrants currently living in the UK.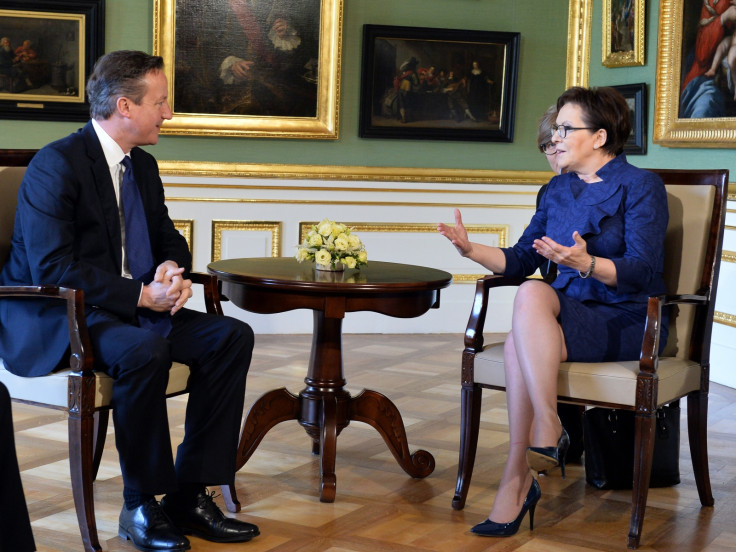 A spokesperson for Kopacaz said: "On immigration and welfare, Prime Minister Kopacz welcomed [Cameron's} commitment to respect the principle of free movement. They agreed that there were issues concerning the interaction between free movement and national welfare systems that should be discussed further. Prime Minister Kopacz emphasised that Poland valued the UK's membership of the EU and said that she hoped they could work together in a positive spirit to keep Britain in."
Foreign minister Grzegorz Schetyna told Polish public broadcaster TVP1: "We want Great Britain to stay in the EU. But the interest of Poles, our citizens who live in Great Britain, is important.
"It's a question of the joint market, these are basic questions. We understand the British stance. But there are also EU fundamentals on which joint Europe was forged. It will be a tough conversation, but very firm on the Polish side."
Cameron has already discussed his planned EU reforms with French president François Hollande and Dutch prime minister Mark Rutte as part of his "whistle-stop" tour.