Separatists in Northern Ireland would welcome the prospect of the UK breaking away from the EU with open arms, according to Lord Peter Mandelson. The former Northern Ireland secretary issued the warning during a speech to the British-Irish Chamber of Commerce on 15 March.
"The possible re-emergence of a hard Irish border between North and South means a vote to leave could irrevocably reorder our UK," the Labour grandee declared.
"It is unclear what the border arrangements would be in the unprecedented situation of the UK leaving Europe – and everyone would want to work to avoid border posts and elaborate checks – but the re-imposition of a formalised border would be a radical departure from the established strategy of administrations in Dublin, Belfast and London.
"Anything, in my view, that strengthened a sense of separation between Northern and Southern Ireland – physically, economically, psychologically – has the potential to upset the progress that has been made and serve as a potential source of renewed sectarianism."
The Britain Stronger in Europe spokesman made the remarks after the Ulster Unionist Party (UUP) dramatically threw its support behind a 'remain' vote at the 23 June ballot. The loyalists have warned a Brexit could trigger the break-up of the UK after the referendum.
But the position puts them at odds with the Democratic Unionist Party (DUP), who are campaigning alongside Ukip for a 'leave' vote.
The current Northern Ireland secretary Theresa Villiers is also backing a Brexit, along with fellow cabinet ministers Chris Grayling and Michael Gove and outgoing Mayor of London Boris Johnson.
'Boris Johnson's fantasy land'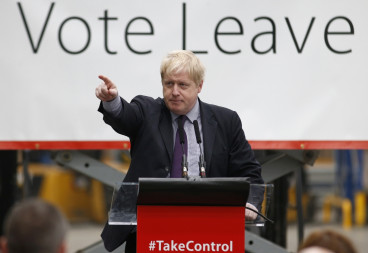 Mandelson also used his speech to attack Johnson over the top Tory's "fantasy" Eurosceptic stance.
"What Boris doesn't understand – or wilfully ignores – is that trade deals are elaborate compromises from which those with the greatest negotiating power benefit most and countries even of our size and proximity ultimately have to settle for what they're offered," the former business secretary argued.
"That's the real world rather than the fantasy world Boris and his fellow Brexiters occupy."
But 'leave' campaigners have seized on the news that US cosmetics giant Avon will move its headquarters to the UK despite the forthcoming EU referendum. Ukip claimed the announcement represents a blow to "Project Fear".
Jane Collins MEP, Ukip's employment spokeswoman, said, "We've had companies defy [David] Cameron and his team of letter writers in 10 Downing Street by saying they will remain in the UK if we vote to leave the EU but this is a new step as it's a company moving jobs here showing this country can thrive as an independent nation.
"Rather than this nonsense about needing to be governed by Brussels for jobs and to attract inward investment this is direct proof that it's over regulation companies are leaving behind as Avon quit [Barack] Obama's high-tax country."
The latest opinion poll from OBR, of more than 800 people between 11 and 14 March, put 'leave' on 49% and 'remain' on 47%, with 4% of respondents undecided.