Wealthy Britons are more likely to stay in the UK if the electorate votes 'leave' at the EU referendum, according to research firm New World Wealth. The South African based company, which interviewed more than 800 high-net worth individuals, found immigration fears meant millionaires in the UK would prefer a Brexit.
"A Brexit will not result in an outflow of millionaires from the UK," said Andrew Amoils, head of research at New World Wealth. "On the contrary, we believe that wealthy UK citizens are more likely to stay in the UK if there is a Brexit. This view is backed up by the fact that most of the wealth British people we interviewed voiced concern over the UK's open border policy with Europe."
The findings were part of the research business' third annual global migration report into millionaires.
The study also found that London experienced a net inflow of around 500 high-net worth individuals in 2015. "This was low compared to recent years as a number of millionaires left the city in 2015 (around 3,000 came in and 2,500 left)," the paper noted.
Debate over border controls
The research comes after Vote Leave, one of the campaigns vying for the Electoral Commission's official Brexit campaign designation, released a dossier of 50 EU citizens who came to the UK and committed serious crimes.
Britain Stronger in Europe has claimed the UK's border security could be undermined after a Brexit. "The Leave campaigns have clearly given up on having an honest debate and are being deliberately misleading," said Will Straw, executive director of Stronger In.
"What they won't admit to voters is that leaving Europe could see the UK border move from Calais to Dover. It would mean our intelligence services wouldn't have access to databases of criminals' DNA. It would mean an end to our invaluable use of the European Arrest Warrant.
"That's why the weight of opinion in the UK and within the international intelligence community – including six former Home Secretaries, a former immigration minister, the former Director of Public Prosecutions, the British Director of Europol and the former head of the UK Border Force – is behind Britain staying in the EU."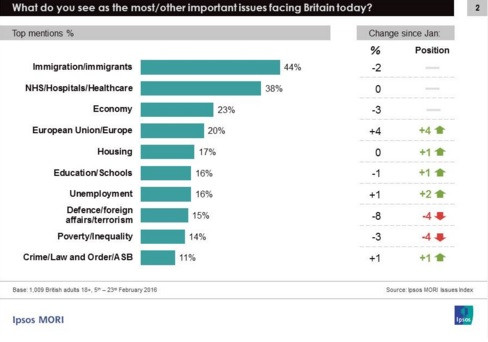 Immigration consistently ranks as one of the top issues for the British electorate.The latest Ipsos MORSI issues index for The Economist, of more than 1,000 people between 5 and 23 February, put immigration on 44% and NHS/healthcare on 38%.
A survey from OBR, of more than 2,000 people between 24 and 28 March, put 'remain' two points ahead of 'leave' (51% versus 49%) as the 23 June vote looms.
More from IBTimes UK