EgyptAir hijack: Video captures moment Ben Innes took 'selfie' with hijacker
A video has been released showing the moment a British passenger posed for a photograph with the hijacker who seized control of EgyptAir Flight MS181 on 29 March.
Seif Eldin Mustafa used a fake suicide belt to force the pilots of the plane – flying from Alexandria to Cairo – to divert to Larnaca airport in Cyprus. The hijacker released the passengers and crew and surrendered to the Cypriot authorities peacefully after a stand-off on the tarmac.
The clip, posted to YouTube by user Huub Helthuis, captures the moment the 26-year-old British passenger Ben Innes walked down the aisle to Mustafa and asked the air steward to take a photograph of the two. The air steward can be heard asking, "You want to take a photo of him?" as Innes replies, "Yeah, yeah. Is that OK?"
After inspecting the photo of the two of them, Innes walks back down the aisle where Helthuis asks, "have you made a picture of this, with the guy?". When Innes says yes, Helthuis adds, "that's crazy".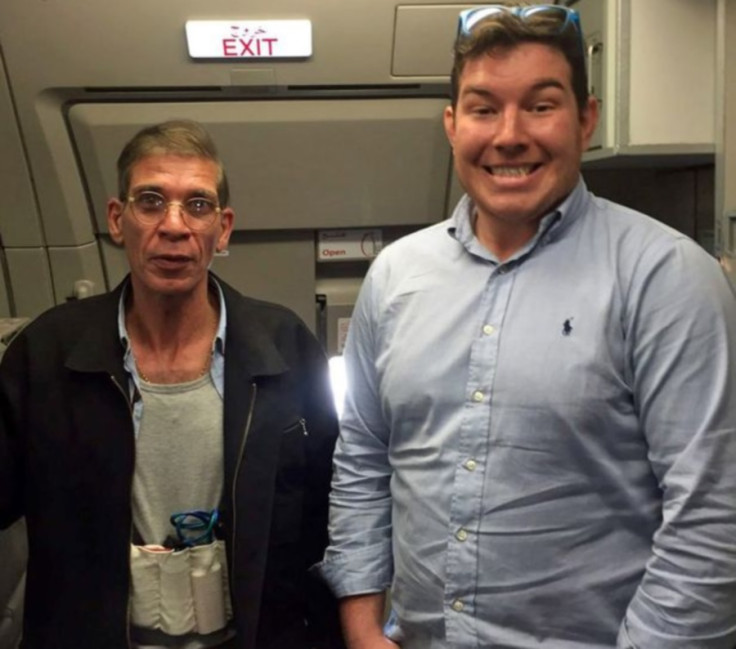 Pictures of Innes posing next to the phoney suicide bomber have gone viral on social media. The health and safety auditor from Leeds has since defended his decision to take the picture, saying he wanted to take a closer look at the suicide vest.
"I'm not sure why I did it – I just threw caution to the wind while trying to stay cheerful in the face of adversity," said Innes. "I figured if his bomb was real I'd have nothing to lose anyway, so took a chance to get closer and look at it... So I stood by him and smiled for the camera while a stewardess did the snap. It has to be the best selfie ever," he said.
Mustafa had requested to see his estranged Cypriot wife and demanded political asylum, as well as the release of all female prisoners in Egypt. The hijacker has been described by Cypriot authorities as "mentally unstable" and was reportedly arrested twice in 2009 and 2010 over forgery and impersonation. Investigations are ongoing to determine how he bypassed security at Alexandria airport.
© Copyright IBTimes 2023. All rights reserved.