Ukip leader Nigel Farage has called for an economic fightback from Brexit campaigners, as the EU referendum campaign heats up. The Eurosceptic firebrand made the comments after the official Vote Leave campaign had announced their support for an Australian-style immigration points system.
Farage welcomed the move after previously calling for more emphasis on immigration from the likes of Boris Johnson and Michael Gove. But IBTimes UK asked the Ukip leader if he thought Vote Leave had campaigned more on the issue because they were losing the economic argument, following anti-Leave interventions from the IMF, the Treasury and the Bank of England.
"I don't," Farage replied. "I said earlier that I thought Johnson, Gove and all the others were genuine converts. I praise Vote Leave for moving onto this agenda, some of us may have got there a bit more quickly, but I praise them for getting there.
"I think on the economics of it, if I were to be mildly critical, they haven't been robust enough. Yes, it's quite right to say that Cameron is scaremongering, it's quite right to say that the Treasury are producing forecasts based on very old economic models, it's quite right to say that the overpaid failures at the IMF and OECD -- people who get everything wrong -- their voices aren't worth listening to. But I think we need to fight back on the economics very much more robustly."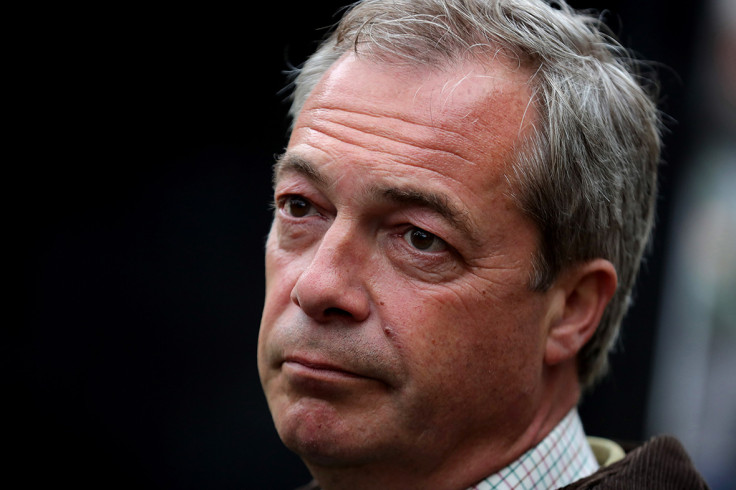 The comments came after Ukip's migration spokesman, Steven Wolfe MEP, and Farage delivered anti-mass immigration speeches on 3 June. The Westminster event followed the Office for National Statistics' latest net migration report. The official figures showed that net migration had climbed to 333,000 in 2015, three times more than David Cameron's promised reduction to "tens of thousands" figure.
Farage said Ukip's stance on immigration had become "mainstream" and warned that British voters were angry because the increased number of people coming to the UK had put a strain on public services, such as the NHS and local GPs. "We're not against anybody, but we think it's irresponsible to have an open door," he added.
Farage to lead flotilla of fishing boats
The comments came just hours after Farage revealed he would lead a flotilla of fishing trawlers up the Thames to London in a pro-Brexit stunt. "On 15 June I will be boarding a small trawler in Southend-on-Sea at 5am and we will catch the flood tide," the Ukip leader told LBC Radio.
"There will be 60 boats in a flotilla coming up the Thames and we will arrive outside the Palace of Westminster at midday. It will be big, visual and dramatic. The demand will be clear: we want our waters back."