EU summit: David Cameron 'battles for Britain' in Brussels as Ukip holds renegotiation protest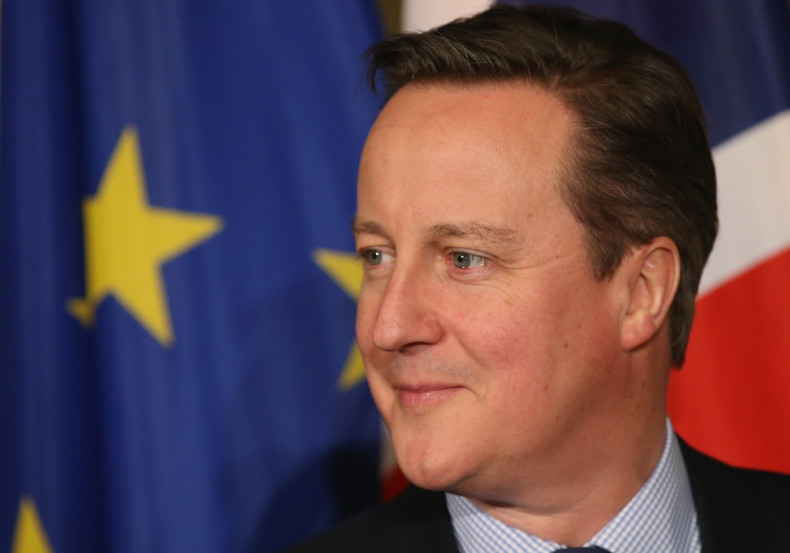 David Cameron promised to "battle for Britain" as the UK prime minister arrived in Brussels for final talks with EU grandees over his renegotiation efforts. The Conservative leader also pledged not to "take a deal that does not meet what we need" when he briefly addressed assorted media outside the European Parliament on Thursday 18 January.
"We've got some important work to do today and tomorrow and it's going to be hard," Cameron declared. "I'll be battling for Britain – if we can get a good deal, we can take that deal. But I will not take a deal that does not meet what we need.
"I think it's much more important to get this right than to do anything in a rush. But with good will, with hard work, we can get a better deal for Britain." Meanwhile, European Council President described the summit as "make or break".
The comments come amid reports that the Visegrád Group (made up of Czech Republic, Hungary, Poland and Slovakia) are opposing Cameron's plan to stop UK child benefit payments from being handed out across the continent.
An analysis from IBTimes UK, of figures from the House of Commons Library, revealed that Britain spends around £30m ($43m, €38m) per year on giving the benefits to EU migrants in the UK with children resident in another member state.
But despite concerns over Cameron's proposals, the prime minister is apparently hoping to wrap-up his renegotiation over 18 and 19 February to announce a referendum for the 23 June.
However, Nigel Farage claimed Cameron's deal would not be legally binding when the Ukip leader spoke to the Press Association before the prime minister's arrival. "Whatever he comes back with, and tries to sell to the British people, is not legally binding," Farage argued. "It can be struck down by the European Parliament and, ultimately, all of it can be ruled out-of-order by the European Court of Justice."
Ukip's migration spokesman, Steven Woolfe MEP, held a protest in Brussels with 50 activists to demonstrate against Cameron's "pitiful deal". But latest opinion poll from Ipsos MORI suggests the British electorate are on the prime minister's side.
The survey, of more almost 500 people between 13 and 16 February, put 'remain' on 56% and 'leave' on 36%, with 10% of respondents undecided.
Schedule for EU renegotiations
15:00 (GMT): Doorstep by Tusk as EU leaders arrive in Brussels
16:00: An "exchange of views" with the European Parliament President Martin Schulz
16:30: A "family photo" with the EU leaders and top civil servants
16:45: First working session on a new settlement for the UK in the EU
19:00: A working dinner to discuss the draft deal
TBC: Press conference hosted by Tusk and the European Commission President Jean-Claude Juncker
19 February
09:00: Informal working breakfast to continue the discussions on the UK (If a deal has not been reached on 18 February)