The Polish government, which poses the biggest hurdle to David Cameron's new EU deal, considers the prime minister's proposals over in-work benefits as not negotiable and would open a "Pandora's Box" for the rest of Europe, the Polish president's spokesman has told IBTimes UK.
It raises the prospect that Poland will not back Cameron on benefits reform, despite hopes that Warsaw could come to an agreement on the UK prime minister's flagship "emergency brake" as the European Council debates it at a summit in Brussels.
Poland has been alone among the four Visegrad states – which also includes the Czech Republic, Hungary and Slovakia – in opposing the emergency brake, which would prevent benefits being paid to new arrivals to the UK for four years.
It had been reported earlier that Cameron could win agreement from Poland but Krzysztof Szczerski, foreign policy adviser to Poland's president Andrzej Duda, said any changes to the benefits time frame were "not one of the sensible points in the final package". Szczerski told IBTimes UK: "If we think of an emergency brake, it should be very well defined, exceptional and limited in access, otherwise it is not an emergency brake.
"We don't want to open a Pandora's Box of closing the social system of any one member state because that would be harmful for other European economies."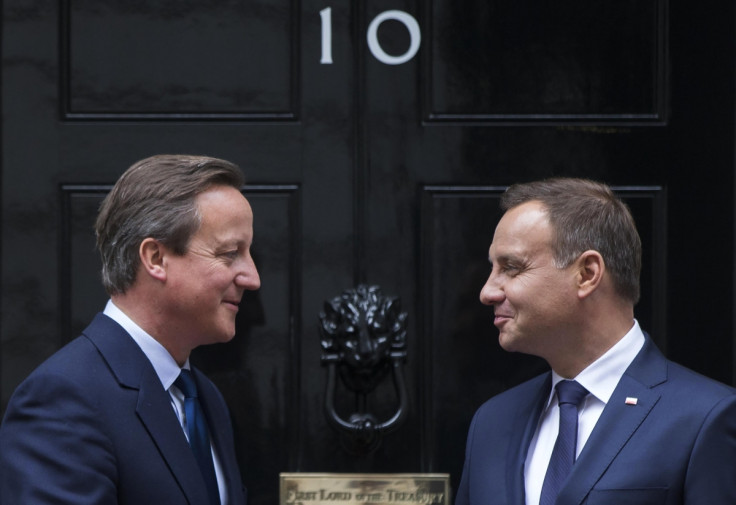 The benefit reform is the centrepiece of the draft agreement on a new settlement in Britain and is the issue Poland has opposed most stridently. The country's new hardline conservative government, the Law and Justice Party, has itself introduced a new child benefit payment designed to stem the flow of Polish talent going to western Europe to find work.
Szczerski, after he addressed the Chatham House think tank in London, pointed out that 2015 saw the fewest number of Poles coming to the UK and "the inflow of people is going down" while most people claiming benefits would be more likely to come from southern Europe.
He said: "Benefits are not what attract Poles to the UK. Warsaw does not want a UK settlement that would set a model for other countries to dismantle the general right of workers to have access to the social system of another EU country."
The Telegraph reported that Warsaw could be more open to backing Cameron's deal in exchange for assurances that the UK could support Poland's security issues in the EU and in Nato. However Szczerski denied this. He said: "There are no trade-offs in these negotiations between the EU matters and other matters, this is a purely an EU negotiation."