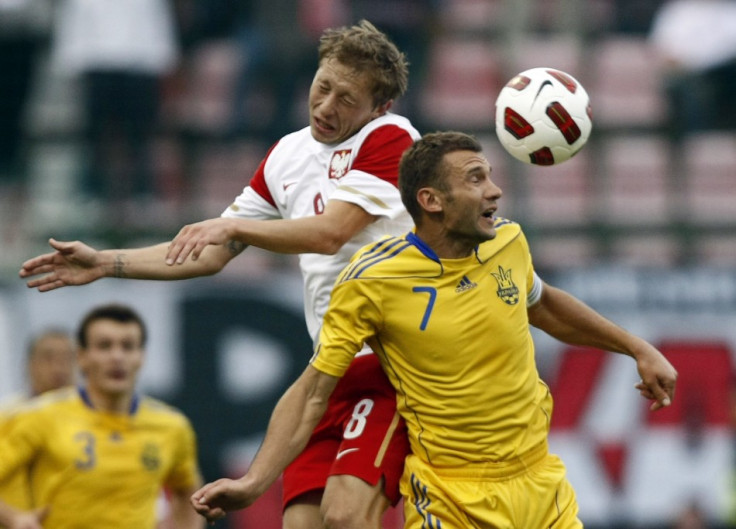 Zeros or heroes the IBTimes looks at the most influential players from the home nations of next year's Euro 2012.
1. Jerzey Dudek - Poland/ Liverpool
Although many people labelled the Liverpool goalkeeper unreliable, it terms of tournaments the Pole he was one of the best signings in modern history for the club.
Liverpool, that won the Champions League in 2005, was so thankful to Dudek for saving the winning penalty from Shevchenko, that very summer the club replaced him with Pepe Reina.
2. Wojciech Szczesny - Poland/ Arsenal
One of the few Poles in the Premier League to be playing weekly is Arsenal's goalkeeper Wojciech Szczesny who has showed promise this season and has been touted by the media as one of the "top young goalkeepers in the Premier League."
But Arsenal's number 1 is still living down the mistake he made during the Carling Cup Final in March when he didn't deal with long ball into the box which cost the Gunners the match.
Nevertheless, Szczesny was promoted to the nation's number one last season and will represent Poland at next year's Euro 2012.
3. Sergei Rebrov - Ukraine/ Tottenham
Sergei Rebrov was meant to signal a new era for Tottenham but instead his time at the London club was anything but. Signed by George Graham in 2000 for a club record fee of £11 million, Rebrov struggled at first, but did score a goal against arch rivals Arsenal in a 1-1 draw.
Bur after Graham was sacked Tottenham went in a new direction with Glenn Hoddle who brought in Teddy Sheringham to effectively replace the Ukrainian calling him too "lightweight".
After a season on the bench, Rebrov was loaned out to European clubs before returning to England where he played a season for West Ham as a midfielder scoring one goal for the east London club.
He now may feel slightly happier that his successful strike partner at
4. Oleg Lyuzhny - Ukraine/ Arsenal
Signed by Arsene Wenger in 1999 as cover for Lee Dixon, Oleg Lyuzhny went on to win trophies galore with the team including the league and cup double in the 2001-2002 season.
His final appearance for Arsenal was the 2003 FA Cup Final against Southampton which he won playing in a man of the match performance in Cardiff.
5. Andriy Shevchenko - Ukraine/ Chelsea
Although, Andriy Shevchenko created a storm when arrived for a British transfer record from AC Milan in 2006 his time at Chelsea was quickly forgotten.
The £32 million striker was one of the biggest flops in the history of the Premier League with the player, already in his early thirties when he joined, struggling to keep up with the pace of the English game. Goals at Chelsea were few and far between scoring just nine goals for the club in 48 appearances - over £5.5 million a goal (including salary and bonuses).