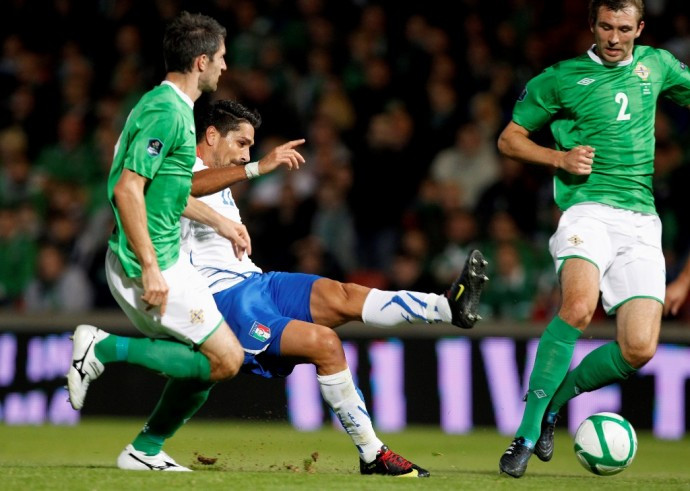 Northern Ireland have held Italy to a goalless draw against Italy in their Euro qualifier game.
Italy's Marco Borriello threatened Northern Ireland early on with a cross aimed at Antonio Cassano being kept out by Northern Irish goalkeeper Maik Taylor.
Domenico Criscito also gave a scare when he hit the ball in across the face of the Northern Ireland goal, but luckily for Northern Ireland no other Italians could get near it.
Northern Ireland struck back with Chris Brunt crossing a ball to David Healy who headed the ball just wide of the Italian goal.
The closest chance of the game however came when Borriello broke completely through the Northern Irish defence. Despite this he was unable to get past Taylor, who kept the score at 0-0.
Despite this Northern Ireland are likely to feel a little hard done by as two penalty appeals were denied by the French referee.
When play resumed Italy looked more dangerous with Antonio Cassano leading the renewed effort against Northern Ireland, who continued to frustrate the Italian attackers.
Northern Ireland brought on Kyle Lafferty later in the game in place of David Healy.
Italy continued their attack with Cassano sending a great cross to Simone Pepe who failed to make anything out of it.
Cassano continued threatening Northern Ireland with a dangerous header from the Italian being blocked by keeper Taylor.
In the five minutes of injury time Cassano again sent a cross into the area only for Giampaolo Pazzini to totally mess up a potentially game winning header.
With minutes to go Northern Ireland looked to steal victory with a great break forward culminating in a shot from Steve Davis being saved by Emiliano Viviano.
The game ended at 0-0 with Northern Ireland having nothing to be ashamed of.