On Saturday (11 June 2016) Russian football hooligans, some reportedly wearing balaclavas and carrying retractable truncheons, systematically attacked England fans in the port area of Marseille, ahead of the Group B clash between England and Russia that evening.
Already the tournament had been marred by clashes between England fans, local supporters and police. The Russian supporters, however, seemed trained and intent on causing serious violence. England fan Andrew Bache was left fighting for his life after being struck on the head several times with an iron bar by Russian supporters.
"Russians who targeted the English appeared to be highly organised, as they attempted karate moves and singled out individuals for beatings," the Telegraph reported.
That night, there was further violence in the Stade Velodrome as hundreds of Russian supporters broke through into the section of the stadium containing England fans in what appeared to be a coordinated attack, punching and kicking indiscriminately.
There was a stampede to get out, with women and children pictured caught up in the chaos. The Russian 'Ultras' also succeeded in smuggling flares into the stadium, firing them at the England fans.
French prosecutors said on Monday (13 June) that a hardcore of 150 Russian Ultras lay behind much of the violence in the stadium. "I don't want to go as far as to suggest these are professionals, but they are extreme and well-trained," said prosecutor Brice Robin. None have been arrested.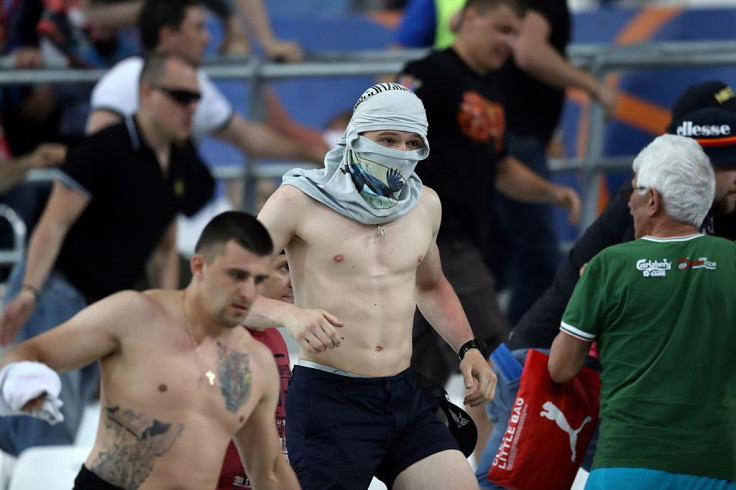 The Russian 'Ultras' are among the most notorious in the world. Motivated by extreme nationalism, they have already turned the domestic game into a battleground, meeting to fight before and after matches, raising neo-Nazi flags during games and routinely subjecting black players to racist abuse.
Ironically, many took their original inspiration from the British hooligan 'firms' and football casuals that were responsible for football violence throughout Europe in the late 1970s and 1980s.
The ultras meet for special combat training, and have close ties with far right organisations. Videos posted online show young ultras training in a frozen forest beating each other unconscious in mass brawls. Members boast that police and military officials are part of the gangs.
Ronan Evain, said to be a specialist in Russian fan culture, told L'Equipe: "These guys are real and hard - people who see it as a sport and are highly trained."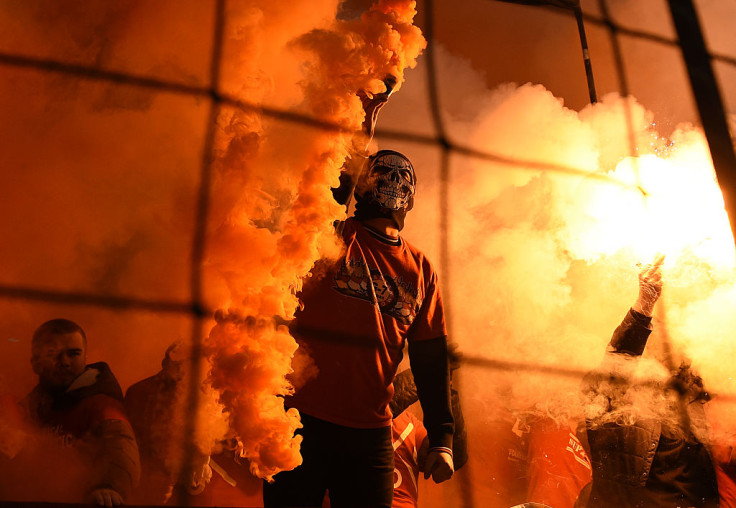 A 2015 report by the Fare, an NGO that campaigns against discrimination in sport, urged Russian authorities to take urgent action ahead of the 2018 World Cup the country is to host amid the growing influence of violent far-right extremists in Russian football.
"The spread of extreme right wing ideas among football fans is facilitated by the evident overlapping of the far-right political community with the ultras," said the report.
"Cases are reported when fans participated in 'white wagons' – commuter train raids during which people with 'non-Slavic' appearance are beaten and ideological opponents, such as anti-fascists, are attacked."
Ahead of the tournament in France there were reports that domestic groups of Ultra rivals had agreed to put aside their differences and join forces to target foreign supporters. In the wake of the violence in Marseille, Russian Ultras gloated, posting pictures of injured England fans on Twitter and holding aloft seized St George's flag banners emblazoned with the names of British towns turned upside down as a mark of disrespect.
The Russian national team had only just seen out a six-points deduction suspended sentence for the behaviour of fans during the 2012 European Championships in Ukraine and Poland. During the tournament fans attacked stadium staff, raised nationalist banners, and racially abused opponents.
UEFA has already begun proceedings to punish the Russian Football Union for the behaviour of its fans on Saturday, charging it with fan violence, racism and letting off flares inside a stadium. It has warned that the Russia and England teams could be banned from participating if there is further violence involving their fans.
Police in Lille have said there is a high risk that England fans will be targeted by Russians ahead of their next game of Thursday, and police have been warned that unless they take urgent measures to combat the threat, the streets of more French cities will be the scenes of brutal violence.