Fresh scuffles have broken out in the northern French city of Lille, reportedly involving English and Welsh fans who stood up to a group of Russian so-called Ultras, outside bars in the city centre, it was reported on Tuesday (14 June).
Videos from the scene show the fans singing "We're England and Wales... F**k off Russia" as chairs are thrown. The apparent involvement of Russians comes despite a warning from Uefa that the team could be thrown out of the tournament if fans are not brought to order.
According to some social media posts, the English are out for "revenge" against the Russians after violent clashes in Marseilles over the weekend (12 June), when a hardcore group of Russian hooligans launched surprise attacks on England fans both inside the stadium and in the streets of the port, apparently supported by local French youths.
England and Wales fans were advised to stay in Lille by Uefa ahead of their match in Lens but Russia's next match also takes place in the city. An alcohol ban which was supposed to be enforced at all host cities during the tournament appears to have failed with numerous images and videos of fans drinking in cafes and bars.
Following the clashes in Marseille, England captain Wayne Rooney and manager Roy Hodgson both warned England fans not to travel to Lille if they did not have tickets. Meanwhile, FA chairman Greg Dyke said Uefa had not done enough to protect England fans, many of them innocent and with children, from the Russian supporters.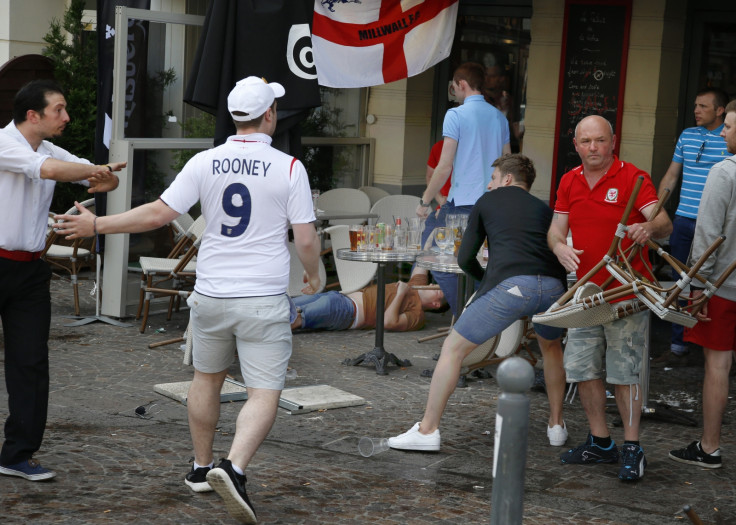 While admitting that some England fans had also behaved badly, Dyke laid most of the blame at the feet of the Russians. "We have serious concerns around the security arrangements for the city in the next few days," said Dyke. "These concerns are heightened with the knowledge that Russia will play in Lille on Wednesday afternoon."
A coach carrying around 50 Russian supporters was stopped on its way to Lille and the occupants threatened with expulsion from France. But Russian hooligans on social media said that those aboard were innocent and the real hooligans were travelling to Lille by private vehicle.
Two Russians have been arrested in Lille city centre, according to Sky News.