Euro falls to 20-month low as traders react to Italy's referendum No vote
Markets brace for a tough period after Italian Prime Minister Matteo Renzi loses campaign for constitutional reforms.
The euro fell sharply after Italian Prime Minister Matteo Renzi said he would resign after suffering a heavy defeat in Sunday's referendum.
At one stage the euro hit $1.0507, its lowest level for 20 months, or March 2015. The eurozone currency gained some ground a short time ago, rising to $1.0563, but was still down 0.96% from Friday. The pound was 0.62% up against the euro at £1.2007.
Some commentators said this could pave the way for further falls when European trading gets under way later this morning.
Analysts at RBC Capital Markets in Sydney argued that, based on what happened in 2012 at the height of the Greek crisis, the risk of a eurozone crisis could see the euro trade as low as $0.8000.
"It may sound extreme, but if a second eurozone crisis were to hit, with the US dollar at a much stronger starting point, the euro could arguably trade lower still," they wrote.
However, City Index research director Kathleen Brooks said: "While the markets are likely to remain nervous as we start a new week, they haven't fallen off a cliff, so far. Either markets are becoming immune to political risk, or they are taking the view that the Italian issue will be a slow-burner, even if the president can't form a government, he still has 70 days to try, and that seems quite far away at this stage."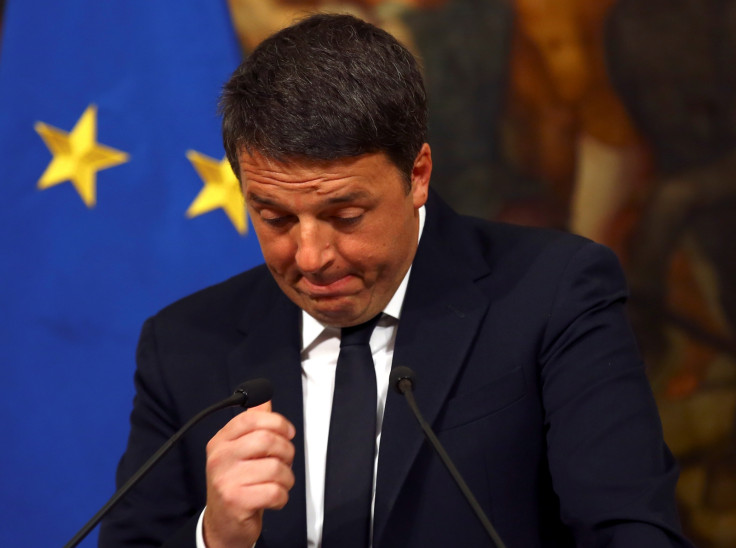 The yield on Italian bonds maturing in a decade surged 10 basis points to 2%, as investor's view the country as a risker bet.
Europe's fourth largest economy has endured sluggish growth for years. Unemployment is over 12%, joblessness among young people runs at 40%.
By contrast the yield on the benchmark 10-year German bonds, Europe's largest economy, rose two basis points to 0.30%.
Italy's banks have €360bn of problem loans against €225bn of equity on their books after successive governments failed to tackle the country's bloated financial system, exacerbated by fraudulent lending at several institutions.
The country has eight banks known to be in various stages of distress, including Monte dei Paschi di Siena, its third largest by assets, which is the middle of a €5bn recapitalisation.
Online broker FxPro chief economist Simon Smith told IBTimesUK: "The referendum offered a fairly stinging blow to Renzi's reform agenda. So whilst we've seen the single currency recover most of the early losses, it could be more of a struggle for the banking sector.
"Banking in Italy has been in some sort of crisis for many years now, so if politics joins it, then that creates a new level of vulnerability.
"Banca Monte Dei Paschi is the most prominent of these and would be hit further should we see Italy struggling to form a government, or early elections are triggered. But it has lost 85% of its value this year, so from some angles there is not a lot of further downside."
Overnight, Renzi said he took full responsibility for the heavy defeat, which with most ballots counted saw the No vote lead with 60% of the votes against the constitutional reforms he campaigned for, against 40% for Yes.
The turnout was nearly 70%, in a vote that was seen as a chance to register discontent with the prime minister who has been in charge for just under three years.
© Copyright IBTimes 2023. All rights reserved.