Former President of the European Council Herman Van Rompuy has said that Europeans are more fearful of Donald Trump's presidency than of Britain leaving the European Union.
In a speech at Chatham House this morning (22 February) the Belgian played down the importance of the impending Anglo-European divorce in other EU countries. He said: "Trump is a bigger concern for European citizens than Brexit."
He warned Britain against getting too close to the new US administration, urging it to instead "establish a special relationship" with the EU, which would prove a "more stable interlocutor" than its Atlantic partner.
He said that what he and others across the continent feared most was the possibility of a future global crisis "with an erratic commander in chief."
He added that Britain had been "too close to the US in the past decade", citing the Iraq war and hesitancy from both countries in dealing with the Ukraine crisis.
The man who held the top job in Brussels until 2014 reminded his London audience that Britain's withdrawal from the EU was not a priority issue in the other member states.
"Brexit is not high on the political agenda in the remaining states. Brexit comes after jobs, migration, terrorism [and] taxes for national leaders and voters," he said.
He acknowledged that the unity of the remaining 27 nations would be tested during forthcoming negotiations with Britain but added that the parliamentary Conservative Party was equally fragile. "It will take a lot of skills to keep the Conservatives together," he said.
Van Rompuy, famously derided by Nigel Farage for having "the charisma of a damp rag", said Britain had always taken a "transactional view" of the EU and was chiefly motivated by the trade advantages conferred to members.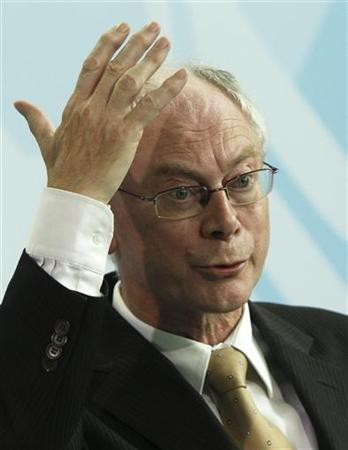 Paradoxically, he said, "Brexit goes against this transactional view". He agreed that "Brexit necessitates a more global Britain" before adding: "You need many Indias to replace the Union."
When describing his wish for a "special relationship" between Britain and the EU, Van Rompuy drew specific attention to his choice of words. He said he wanted Britain to be "more than a strategic partner" with the remaining 27.
He said he expected forthcoming negotiations to test politicians on either side of the channel. His remarks aimed at the UK Conservative Party come after Theresa May avoided a mass rebellion on the Brexit Bill by granting MPs a vote on the final UK-EU deal.
"There is no such thing as a soft negotiation on a hard Brexit: campaigns are written in poetry but governance needs prose," he said.